GPC SG Session 5 Removing "Status-Quoism"
by
Jeremy Lack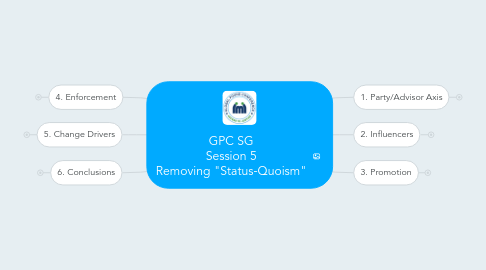 0.0
stars - reviews range from
0
to
5
GPC SG Session 5 Removing "Status-Quoism"
1. Party/Advisor Axis
Worst enemies?
Party, Nature of relationship can be adversarial, Financial incentives, Need to align interests, Who is in the driver's seat?, Engaged In-House counsel
Advisor, Disagrees: "Client's Best Interests" = top priority, Always!, Different degrees of client sophistication, Team work is key, In-house can be own worst enemy, Inconsistencies, Discrepancies in GPC data does not mean disagreement
Provider, Strategic choice vs. Legal Choice, Are our parties "the enemy"?, How to get people to work collaboratively, ICC Publication on effective in-house case management, Segment the case, Work by segment
Educators, Emphases on Relationships, Legal culture, Corporate Culture, Law Dept. Culture, Is this all cross-cultural?, You have to look at this systemically, Competing KPIs? (Key Performance Indicators), Fees?, Metrics = shades of grey
Moderator, Early Case Assessment systems avoid these issues!, See OLE case assessment form on IMI website
Q&A
30 yrs Party: schizophrenia, Many minds, Many views, Can be difficult for in-house to be clear
Advisor, Don't advise against your client
Advisor, New financial settlements: can you marry the interests?, One approach: Use ADR of we go elsewhere, Other: New financial approaches, Early case settlement bonuses?, Alternative fee agreements, Sliding scale on cost savings?, 0-6 months = bonus A, 6-12 months = bonus B, B<A, Concerns of biasing external counsel's interests, Should we kill the billable hour?
2. Influencers
Mindsets
Educators, Education brings changes, Optimistic in SG, 20 years, New law programs are creating a new generation of lawyers, New generation of "new think" partners in law firms, Some counsel are tired of "old" adversarial model, NADRAC (AU) data on effect of ADR training, ADR did change mindsets of large firms, Did not change mindsets of small firms, Danger of joint roles/swapping hats = confusion of roles
Advisors, UK Lord Wolf's reforms changed professional mindsets
Providers, Courts play a key role in changing mindsets, If judges support ADR, lawyers will support ADR, Some cases are well decided by adjudication, Ground-breaking cases, E.g., Native title precedents, Should NOT have been mediated, A precedent was needed, Mediation v. Adjudication, Silo mentality, "either/or", This is also cultural, Arbitrator are a clique or group to themselves, Chinese judges may be more open in mixing the two?, German arbitrators also act as settlement neutrals (Conciliators), Who knows best what process to use, Judges can send cases to mediation, Does not affect their neutrality, Has Arbitration become what it was meant to avoid?, Reason for Wolf reforms in the UK
Parties, We do want an earlier assessment of the case, Judges "make the parties settle" is NOT mediation, But is often what parties do want, Some companies are moving back to litigation from arbitration, Get earlier initial case assessment, Imagine Arbitral Procedural Order No. 1 contains a mediation discussion step, Consensus by all: this is NOT a problem!, Lawyers may get upset by "due process" concerns, but is a prof. reflex (X-mode!), One concern: If arbitrator is unhappy with failure to mediate, can it have an impact on non-appealable judgment, Non-voluntary process?, How to guarantee against this danger?
Q&A, Disappointment in USA with education, It has not changed mindsets, Reality of billable hours & billings was a contradiction, Providers, More optimistic, New generation of students visible in mediation and arbitration moots, Students are surpassing seasoned practioners!, The market will decide what it wants, But some clients need to know what is available, Not an issue: New generation of students do get it!, Trust & time will come, Arbitrators role in settlement, "Muscular" arbitrator, Clear messages about case via, Discovery requests, Case management, Positional-based systems v. Interests-based systems, Do lawyers have an interest in interest-based ADR?, Legal systems and local cultures affect how mediations happen, USA may have its own issues that are cultural
Skills
3. Promotion
Providers
Need local legal culture to be receptive to ADR
A collaborative approach to selling processes matters
Advisor
Agrees, Procedural Order 1 example in arbitration = what happens regularly in UK courts, Suggests that the adjudiactive providers can do a lot more to promote ADR, Judges, Arbitrators
Party
Can use arbitration and mediation even when there is no conflict, "ARB-MED" in M&A situations where there is a conflict on value of intangible assets
This is all about risk management, Not sure that clauses for complex ADR is good
Educator
We need innovation, e.g., "opt-out" provisions, Use "nudge theory" to promote ADR
Show of hands 100% of room:
Conclusion: ADR IS NOT SUFFICIENTLY PROMOTED
Q&A
Promotion & hybrids: Australia allowed a new hybrid in a new field, Huge increases in use of a hybrid ADR process once promoted by local legal establishment, Requires education
Provider from CN, Concerns of enforceability of mediation settlement agreement, Parties prefer arbitration to mediation since there is no equivalent to the NY Convention, This is a real issue for SMEs, Mediation is not done normally: e.g., done sometimes by e-mail., Flexible approach to use of mediation, Need more alternatives to how to use mediation
4. Enforcement
Advisor
Is there a blockage/obstacle to enforcement?, This depends on local national laws, EU Directive has resolved this for EU
Party
Disagrees: There is a need for an international convention on the recognition & enforcement of mediation settlement agreements, IMI has a committee advising UNCITRAL on this
Educator
Is it an issue, There is a higher rate of compliance with mediation agreements
Q&A
How to simplify this?, Is it a fear due to unknown?, But perception is reality
Can consent awards converting mediation into arbitral awards be a solution, Party: No, Advisor: Why not?, Party: "Let's take this outside!" :-)
SG ARB-MED-ARB could be solution, Will increase use of mediation, Value of a convention addresses the fear factor, even if its is not objectively needed
5. Change Drivers
Educators
Separate forest from trees
Flexibility + regulatory changes are needed
Need to go back to middle ages!
Educate to change minsets!, Not to change only lawyers, To change users as well, Generational and social change
Party
Sell me a product I discover I need!
Offer me a service I can tantalize my internal clients with
Comparative information is driving change
Use of technology is undersestimated, Read Susskind's "The Future of the Profession"
Advisor
In favour of pre-lawsuit procedural requirements
Information
Cost sanctions
Provider
Mandatory mediation
We need to trust more in people & relationships, Wrongly perceived as "soft stuff", This is really the tough stuff!, We are afraid of relationships to we move to systems
Q&A
Want Arbitrators to have to be trained in Mediation & Vice-Versa, Be able to combine the 2 in the same dispute
Influencers/Educators are key, The educators are changing the world: better foundations = bigger and better buildings, We need to recognise & celebrate our "builders" of Noah's Ark in ADR
Allow mediators and arbitrators to work as a team
6. Conclusions
The answer lies in dealmaking
Watch this space for more from Singapore for this hint of what is yet to come!
"Be the change you want to see in the world" M. Gandhi
GPC is starting in SG
ONWARDS SINGAPORE!