The Three Cs
by
April Hayman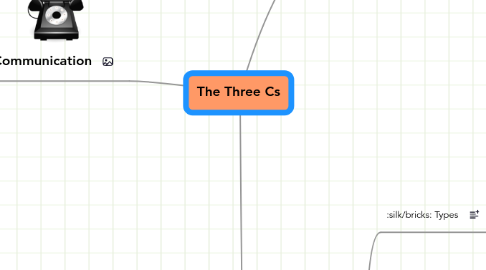 5.0
stars -
1
reviews range from
0
to
5
The Three Cs
Collaboration
Activity
A collabartive activity is an interaction between two or more people with the express purpose of creating a product of some type.
Small Group Discussion
planning
mindmapping
Project or Problem based learning
Tool
A collaboration tool allows two or more people to work together to create a product. It may also be used to disseminate that product to others outside of the collaborative group.
Wiki, Wikispaces, Google Sites, PBWiki, Wetpaint
Mindmap, MyWebspiration, Mindmeister, Bubblus
Google Apps, Google Docs, Google Spreadsheet, Google Sites
File Sharing, DropIO, DropBox
Workspaces, Huddle.net, TeamBox
Whiteboards, Dabbleboard, Skrbl
Communication
Activity
A communication activity is a type of interaction between the participants, the facilitator, and the content.
Threaded Discussion, Instructor led, Student moderated
Chat
Reflection
Microblogging
Blogging
Tool
A communication tool allows a user to disseminate and/or communicate information and receive communication back from others.
Forum
Email, Gmail, Yahoo, Messaging System inherent to LMS or Social software
VOIP/Text Chat, Skype, MSN Messenger, AIM, ICQ
Blog, Wordpress.com, Blogger, TypePad
Microblog, Twitter, Edmodo, Plurk, Tumblr
Virtual Worlds, Second Life, Club Penguin, OpenSim
Private Social Network, Ning, Facebook, Elgg
Web Conferencing, DimDim, WebEx, Elluminate
Video Chat, Skype, Oovoo
Strategies
24 hour response
Kind and respectful tone
Rubric
Syllabus
Forums, emails, VOIP
FAQs
Content
Types
A content activity is any type of document, file, or item with which the participant interacts in some way, e.g. reads, watches, listens to, plays.
Rubric
Syllabus
Text, Word docs, PDF, Google Apps, Docs, Spreadsheet, Presentation
Media, Video, Audio, Podcasts, Presentations, Games/Interactivities, Social bookmarking, Delicious, Diigo
Tool
A content tool can be a piece of software to create content, an open courseware repository, or an informational website (including blogs, wikis, etc.).
LMS, Moodle, Sakai, Blackboard, Sloodle
Open Course Content, MIT OpenCourseWare, Open University, Connexions, Curricuwiki, Open Access Journals
Media, Audio, Audacity, Garageband, Ineractivity, Flash, GameMaker, HTML Editor, Dreamweaver, VUE, Video, Open Video Editor, Premiere, iMovie, MovieMaker, Web Presntation, SlideRocket, Google Presentations, Slideshare.net, One True Media