Debate: Are there any silent parts in the human brain? - NO! by B.O. Popescu, Romania
by
Paul de Roos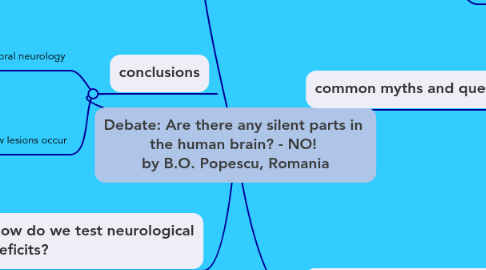 0.0
stars - reviews range from
0
to
5
Debate: Are there any silent parts in the human brain? - NO! by B.O. Popescu, Romania
common myths and questions
no complete silence
sequence of activation
We only use 10% of our brain, only 10% of our brain potential
We use 100% of our brain
is the question well asked?
Do humans use "more" of their brain than their ancestors
do primates/mammals/reptiles/birds/etc use only part / all of their brains?
How do we connect a brain area with neurological function?
autopsy in humans
lesion - based brain-behavioral studies
experimental models - rats, monkeys
fMRI - performance of different tasks, but tasks are a limitation (love, writing a poem)
brain imagery cannot capture functions that happen to quickly or too slowly
How do we test neurological deficits?
neurological clinical exam
what lesions can be detected by a standard clinical neurological examination?
silent lesions?
conclusions
behavioral neurology
many "silent" brain lesions matter when new lesions occur
Meeting notes by
Paul de Roos
Mindmap hosted on
Meeting