Types of e-learning tools
by
Renato Grgurevic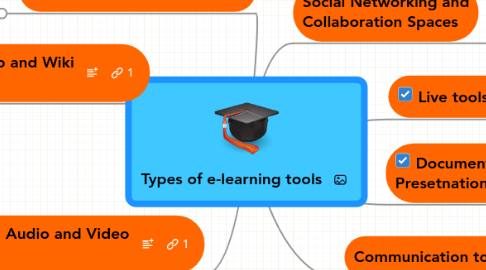 0.0
stars - reviews range from
0
to
5
Types of e-learning tools
Instrukcioni alati sluze za kreiranje, isporuku, upravljanje i pracenje ucenja i takodje pruzaju okruzenja za e-learning. Tools for creating, delivering, managing and/or tracking learning and/or providing a formal social learning environment.  Includes course authoring, testing, LMS, CMS and SLEs
Moodle alat za kreiranje on-line kurseva je jako popularan. Pored toga sto omogucava kreiranje on line kurseva, on takodje nudi i chat, forume(diskusione grupe), testove...   Moodle is a Course Management System (CMS), also known as a Learning Management System (LMS) or a Virtual Learning Environment (VLE). It is a Free web application that educators can use to create effective online learning sites.
Ovaj alat je pogodan za kreiranje kurseva za elektronsko ucenje, meni se dopada jer je vrlo lak za upotrebu, jedini preduslov je da solidno baratate HTML jezikom.   The e-Learning Authoring Tool is a simple, easy to use tool for creating online courses. Its design allows you to create rich media courses containing text plus images, Flash animations, audio and video created with your favorite media editors. Every course you create will fully conform to the SCORM standard.
Ova grupa alata omogucava kreiranje blogova, web stranicaa sto je najvaznije omogucavaju kreiranje interaktivnosti na njima. Tools to create blogs, web pages/sites and wikis as well as provide interactivity on those sites Includes blogging tools, web site tools, wikis, widgets, RSS feeds tools, forms,  web poll and survey sites
Napredan alat za kreiranje profesionalnih web stranica.
Blloger je alat koji omogucava besplatno pisanje bloggova na internetu. Jako jednostavan za koriscenje.
Alati za prezentovanje i isporuku dokumenata sluze za kreiranje, hostovanje(isporuku tj.pruzanje) dokumenata, PDF-a, elektronskih knjiga itd.   Tools to create, host and/or share documents, PDFs, e-Books and/or presentations. Includes word processing, presentation tools, PDF convertors, document and presentation hosting sites
Google docs je Google-ov alat za share-ovanje dokumenata na internetu.
Ovaj alat kao sto svi dobro znamo sluzi za kreiranje prezentacija. Nudi ogroman broj ugradjenih alata.
Live alati sluze za uspostavljanje online sastanaka, dijeljnje ekrana kao i kreiranje i pristupanje virtualnim svjetovima.   Tools for delivering live meetings, screen sharing and accessing/ building virtual worlds Includes web, audio, video conferencing, live broadcasting, 3D/virtual worlds
Second life je najveci korisnicki kreiran 3D virtuelni svijet. Ovaj alat omogucava komunikaciju sa drugim clanovima zajednice. Second Life the Internet's largest user-created, 3D virtual world community. Free, hosted
Alat za kreiranje virtuelnih ucionica u realnom vremenu. Real-time virtual classroom environments designed for academic institutions and corporate training Free/Ł, Hosted
Ova grupa alata omogucava kreiranje, mjenjanje i hostovanje(pruzanje) slika, avatara, audio i video fajlova itd.   Tools to create, edit and/or host images, avatars, audio files, podcasts, screencasts and videos Includes image editors, images hosting sites, audio editors, video makers, screencasting tools, video hosting sites
Audacity je potpuno besplatan softver za snimanje audio podcastova neogranicene duzine.
Camtasia je napredni softver za snimanje audio i video podcastova. Vrlo pogodan za elearning.
Ova grupa alata je po meni najzastupljenija na internetu. Omogucava audio i video komunikaciju preko interneta tj. kreiranje video konferencija. Osim toga u ovu grupu spadaju i email citaci.
Mozilla Thunderbird je email citac, koji omugucava preuzimanje i slanje email poruka, kreiranje vise naloga razlicitih domena itd. Za ovaj program postoji veliki broj dodataka (antivirus, spam bloker...)
Skype je jedan od najpopilarnijih alata za video konferencije uzivo. Uz njega dolazi veliki broj dodataka (za facebook, igrice, share screen, file transfer..)
Social Networking and Collaboration Spaces
Facebook je najveca svijetska drustvena mreza. Mislim da za facebook ne treba previse govorit jer ga skoro svi koriste :)
LinedIn je drustvena mreza za osobe iz raznih oblasti(IT, politika, gradjevina, pomorstvo...) koji razmjenjuju iskustva i traze posao.