Week 5 Reflection - Encouraging De-Lurking
by
Aaron C.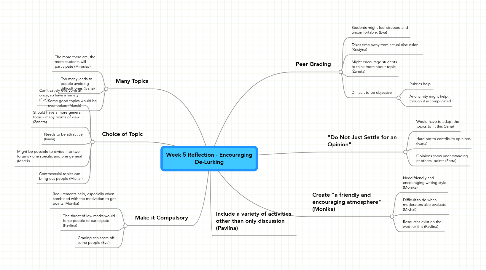 0.0
stars - reviews range from
0
to
5
Week 5 Reflection - Encouraging De-Lurking
Choice of Topic
Can't satisfy everyone at once, so have a variety (Eva)
Should have a more general topic - many points of view (Žaneta)
Needs to be attractive (Ivana)
Might be possible to divide into two forums - one specific and one general (Marek)
Controversial topics can bring out people (Michal)
Many Topics
The more there are, the more students will participate (Miroslav)
Too many leads to people avoiding difficult ones (Ivana)
Some good topics would be overlooked (Marek)
Peer Grading
Students might feel stressed and uncomfortable. (Eva)
Takes time away from actual discussion. (Kristýna)
Might encourage students to think more about topic. (Žaneta)
Difficult to be objective
"Do Not Just Settle for an Opinion"
Would have to adapt the topics to fit this (Jana)
Hard not to contribute opinions (Ivana)
Opinions show understanding of others' points (Petra)
Create "a friendly and encouraging atmosphere" (Monika)
Need friendly and encouraging writing style (Monika)
Difficult to do when moderators also evaluate (Michal)
Resources exist on the web for this (Pavlína)
Include a variety of activities other than only discussion (Pavlína)
Make it Compulsory
Requirements help, especially when combined with the motivation to get points (Monika)
The threat of low marks would force people to participate (Pavlína)
Grading can scare off some people (Eva)