The Hincks-Dellcrest Centre
by Brittany L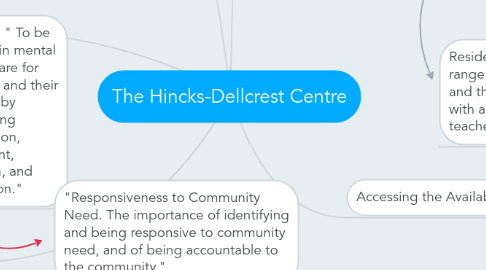 1. Vision and Goals
2. Equity, Inclusion,and Awareness of Cultural Diversity
3. Services and Programs Offered
4. Accessing the Available Programs
5. What is it?
6. A non-profit mental health centre with locations in Toronto and Heathcote that helps 8000 children and families annually with focus is placed on mental health. The centre helps infants, children, youths, and their families with emotional, social, and behavioural well-being
7. One of the values of the Centre is to embrace diversity. The children and families that they have the pleasure to serve come from a variety of backgrounds with many different issues.
8. Vision: "To bring hope, optimism, and possibilities to the children and families we serve."
9. Mission: " To be leaders in mental health care for children and their families by combining prevention, treatment, research, and education."
10. https://www.hincksdellcrest.org/Home/About-Us/Vision,-Mission,-and-Values/Vision,-Mission,-and-Values.aspx
11. https://www.hincksdellcrest.org/Home/About-Us/What-We-Do.aspx
12. "Responsiveness to Community Need. The importance of identifying and being responsive to community need, and of being accountable to the community."
13. "Individualization. The need for service to be personalized and to be tailored to a holistic understanding of clients' unique patterns of strengths, resources, and needs."
14. "Client Involvement. Respect for the right of each client to be involved in service decisions and to be as self-determining as possible, limited only by the right of others to be equally self-determining and to be protected from harm."
15. "Normalization. Recognition of and respect for the many types of diversity within the community, and for the normal routines and rhythms of life, as well as for the importance of adapting services to the key roles and strengths of individuals, families, and cultural and community life."
16. "Continuity of Care. The importance of receiving services that are well planned, coordinated, and integrated."
17. Prevention
18. Early Intervention
19. Residential Services - these services range from three month to two years and the children and youth interact with a multidisciplinary team and TDSB teachers
20. Outpatient
21. Requests for services must be made through one of their two intake offices by parents/ guardians of the child. Referrals can be made but parents have to contact the intake office.
22. Day Treatment Services - run by a multidisciplinary team along with teachers that belong to TDSB
23. https://www.hincksdellcrest.org/Home/Services-to-Infants-Youth-and-Children/Voluntary-Treatment-Services.aspx#residential