Cecilio Carpio Browsers 2010
by
Cecilio Carpio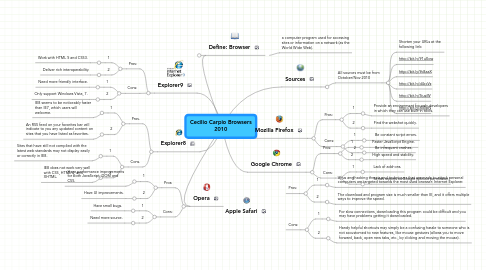 0.0
stars -
0
reviews range from
0
to
5
Cecilio Carpio Browsers 2010
Define: Browser
a computer program used for accessing sites or information on a network (as the World Wide Web).
Opera
Pros:
1, Have performance improvements for both JavaScript, DOM and CSS.
2, Have UI improvements.
Cons:
1, Have small bugs.
2, Need more source.
Google Chrome
1, Faster JavaScript Engine.
2, High speed and stability.
Cons:
1, Lack of add-ons.
2, Sends reports to Google without permission.
Apple Safari
1, Virus and hacking threats and techniques that are made to attack personal computers are targeted towards the most used browser: Internet Explorer.
2, The download and program size is much smaller than IE, and it offers multiple ways to improve the speed.
Cons:
1, For slow connections, downloading this program could be difficult and you may have problems getting it downloaded.
2, Handy helpful shortcuts may simply be a confusing hassle to someone who is not accustomed to new features, like mouse gestures (allows you to move forward, back, open new tabs, etc., by clicking and moving the mouse).
Mozilla Firefox
1, Provide an environment for web developers in which they can use built-in tools.
2, Find the webshot quickly.
Cons:
1, Be constant script errors.
2, Be infrequent crashes.
Explorer9
1, Work with HTML 5 and CSS3.
2, Deliver rich interoperability.
Cons:
1, Need more friendly interface.
2, Only support Windows Vista, 7.
1, IE8 seems to be noticeably faster than IE7, which users will welcome.
2, An RSS feed on your favorites bar will indicate to you any updated content on sites that you have listed as favorites.
Cons.
1, Sites that have still not complied with the latest web standards may not display easily or correctly in IE8.
2, IE8 does not work very well with CSS, HTML 4, and XHTML.
Sources
All sources must be from October/Nov 2010
Shorten your URLs at the following link:
http://bit.ly/91uXow
http://bit.ly/9c8aaX
http://bit.ly/d4ccVz
http://bit.ly/5jusiW
http://bit.ly/8d5pN