Abir's Browsers 2010
by
Abir Rahman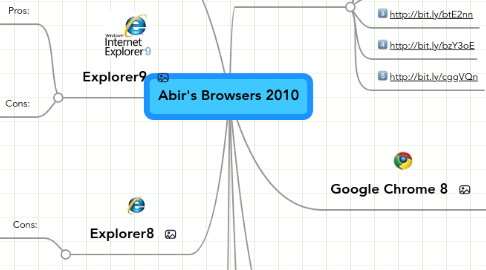 0.0
stars -
0
reviews range from
0
to
5
Abir's Browsers 2010
Mozilla Firefox 4
Though Firefox isn't the only browser to have a URL-autofill feature, it does the job better than most other browsers do.
Runs multiple process on the task-manager all labeled under 'Chrome'
Cons:
Slow start up
Its highly cross-platform nature means that it can feel a little out of place at times, even on Windows.
A web browser is a software application for retrieving, presenting, and traversing information resources on the World Wide Web. An information resource is identified by a Uniform Resource Identifier (URI) and may be a web page, image, video, or other piece of content.
Opera 10.6
Pros:
Opera's interface is clean, polished, and attractive
The interface is flexible, with a healthy number of toolbars for you to choose from.
Cons:
Slow in reading the script on multiple pages
Opera was the slowest browser in three of our eight live-site tests.
Google Chrome 8
It will not crash on you.
It allows you to see thumbnail images of your recently visited or most visited websites.
Cons:
Lack of addons compared to most other available browsers.
Occasional crashes on the browser required addon's
Apple Safari 5
Heavily enhanced graphics features.
The bookmarks manager is laid out well and lets you view thumbnails of bookmarked pages as you click through them.
Cons:
Lacking anti-phishing and smart toolbar.
Safari forces a number of Mac interface conventions onto Windows users.
Explorer9
It really is really fast
On Windows 7, you can pin links onto the operating system's taskbar, turning them into icons that open the page when clicked.
Cons:
It has a crowded interface
The new download manager does well but it still fails to record many specifics like when an image is downloaded.
Sites that have still not complied with the latest web standards may not display easily or correctly in IE8.
Although the browser recommends 521 MB of RAM, it is entirely inefficient to run the browser on a system of less than 2GB RAM
Sources
All sources must be from October/Nov 2010; minimum 5 sources, collaborative effort
Shorten your URLs at the following link:
http://bit.ly/
http://bit.ly/9xAsV6
http://bit.ly/94ITeS
http://bit.ly/btE2nn
http://bit.ly/bzY3oE
http://bit.ly/cggVQn