Vida Lopez Browsers 2010
by
Vida De Jesus Lopez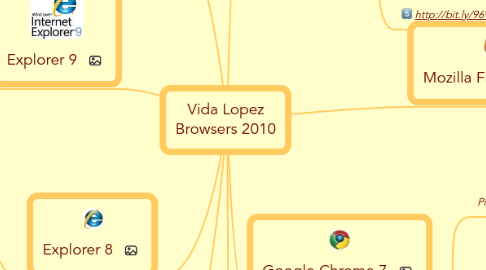 0.0
stars -
0
reviews range from
0
to
5
Vida Lopez Browsers 2010
Browser: a computer program used for accessing sites or information on a network (as the World Wide Web)
Opera 10
Pros:
Opera lets you choose to accept cookies only from the site you visit; customizable for individual sites.
Tabs are displayed as thumbnails; the feature is called "Speed Dial."
Cons:
No extensions or add-ons available, as compared to Foxfire.
The BitTorrent client slows the browser drastically.
Google Chrome 7
Security: "Sandboxing" prevents malware implanted on that site from accessing your file on your computer
Visually stunning, as it devotes most of the space to the webpage, instead of bulky toolbars.
Cons:
Have to have a Google account to share files with people.
Limited number of add-ons and extensions compared to those available with Firefox.
Apple Safari 5
"Reset" function:Safari gives you a third option that enables cookies for the site, but disables other cookies that are unnecessary.
Can take voice commands, and reads webpages out load to viewer.
Cons:
No extensions or add-ons avaiable for current version
No themes available to customize browser, like in Mozilla.
Mozilla Firefox 3
A multitude of add-ons and extensions that create a versatile browser
Search bar uses the incomplete entry to predict where you'd like to go.
Cons:
The latest version is beta, so not all websites are compatible.
Speed is slower in comparison to Chrome, and also has "lagging" moments of slower speed.
Explorer 9
IE 9 beta is faster than IE8, and even compared to Chrome for speed.
Handles MTML5 nicely, also compared to the compatibility of Chrome.
Cons:
Most websites are not compatible with IE9 beta, yet, so there is a limit on the page loading.
The IE9 beta version has a lot of glitches and bugs in it's current state--extended use may slow it's performance
Known to be dramatically slower than the rest of the browsers available.
Glitches in the PDF-file downloading program prevent many PDF files from opening.
Sources
All sources must be from October/Nov 2010; use this search: http://bit.ly/cwWsuW ; minimum 5 sources, collaborative effort
Shorten your URLs at the following link:
http://bit.ly/
http://bit.ly/cPtGD9
http://bit.ly/bDwQsS
http://bit.ly/dpgYIP
http://bit.ly/4MECiG
http://bit.ly/96WIMk