Alison Jones Browsers 2010
by
Alison Jones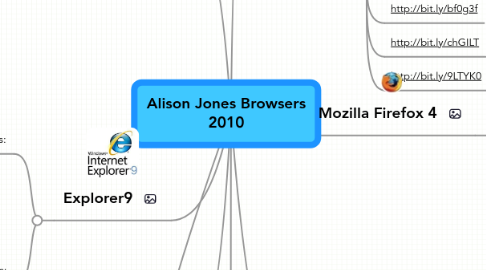 0.0
stars -
0
reviews range from
0
to
5
Alison Jones Browsers 2010
Internet Browser: a software application for retrieving, presenting, and traversing information resources on the World Wide Web.
Opera
Pros:
Has own email client
Calling back quickly cache
Very fast
Cons:
Slow script reading
Updates require downloading master files
Google Chrome 6
Best for streaming video and downloads
Easy to update
Currently most resistant to hacker attacks
Deletes cookies when browser is closed
Cons:
Low scores on W39 testing
Difficult to use older version as it is automatically updated
Not clear indication of pages loading
Apple Safari
Most reliable and fastest for OS X
Regular security updates
Savable tabs
Cons:
Lowest Conformity with HTML5 Compliance
Not very customizable
Mozilla Firefox 4
Has most customization options.
Fastest
Security
Extra features and add ons
Cons:
Takes more memory
Loading takes a long time with more add ons
Explorer9
Most HTML5 Compliant
Already installed on computers - easy
Turns websites into desktop applications.
Simple design
New drag and drop feature
Cons:
Only Beta Versions available
Cramped space for tabs
Security risks - prone to hacking
No HTML5 compatability
Sources
http://bit.ly/bw0DWh
http://bit.ly/9K8MJ8
http://bit.ly/9xAsV6
http://bit.ly/cjfcrr
http://bit.ly/axMx88
http://bit.ly/a8znco
http://bit.ly/cggVQn
http://bit.ly/5o6PuZ
http://bit.ly/bf0g3f
http://bit.ly/chGILT
http://bit.ly/9LTYK0