Lizette Roman Browsers 2010
by
Lizette Roman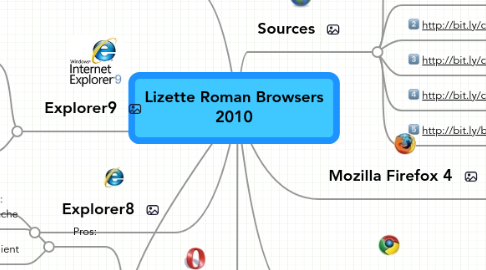 0.0
stars -
0
reviews range from
0
to
5
Lizette Roman Browsers 2010
Browser: software application for retrieving, presenting, and traversing information resources on the World Wide Web.
Opera
Pros:
Calling back quickly cache
Has it's own email client
Cons:
Slow at reading script on multiple pages
To update, master files would need to be downloaded again
Google Chrome 6
Quick and lighweight
Strong Security System
Cons:
Error when it opens threads
Ads in KASKUS
Apple Safari
Follows certain selected elements from web standards.
Great integration of HTML5
Cons:
Javascript Functionality
Browser uses penetration well below the rest.
Mozilla Firefox 4
Many extra features
Strong Security System
Cons:
Loading time to start
Opening multimedia sites
Explorer9
100% for attributes, audio, foreigncontent, video and xhtml5
Best HTML Support according to W3C
Cons:
Browser Interoperability
Long installation
Prime target for hacker attacks
Fails to read script on some pages
Sources
minimum 5 sources, collaborative effort; only most recent versions
Shorten your URLs at the following link:
http://bit.ly/
http://bit.ly/9xAsV6
http://bit.ly/cggVQn
http://bit.ly/chGILT
http://bit.ly/c09Eu7
http://bit.ly/b3eh2I