Virtual reality By: Miguel A, Andrew A, Aidan C, Josh H, Ryan H
by Miguel Abadilla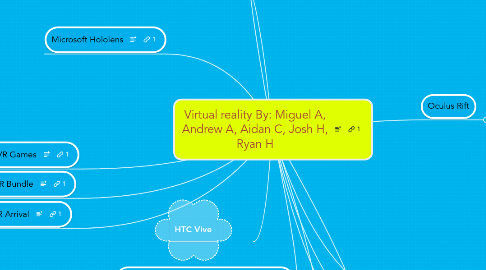 1. You can even control mechs and fight against other mechs.
2. Playstaion VR Arrival
2.1. http://www.bloomberg.com/news/articles/2016-03-15/sony-s-playstation-virtual-reality-headset-to-arrive-in-october-for-399
3. HTC Vive
4. Oculus Rift
4.1. http://www.nytimes.com/2016/03/31/technology/personaltech/oculus-rift-virtual-reality-review.html?_r=0
5. Dystopian Virtual Reality is here
6. Microsoft Hololens
7. There are various games for VR systems such as rock climbing, racing, and you can fly on a dragon and fight other dragons.
8. Star Wars Battlefront VR
9. TedX Binghaniton Kyrin Pollock and Matthew Gill
10. How HTC and Valve built the Vive
11. Playstation VR Bundle
12. Playstation VR Games
13. Hands on with the HTC Vive headset
14. HTC Vive Review: Oculus Rift's Rival Makes VR Bigger