Pollocks Transition Process Supporting Globally Mobile Students
by london McKInnon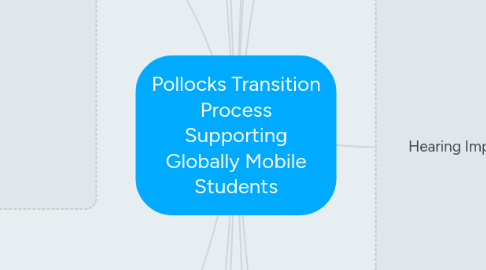 1. Activities
1.1. Low Vision Clinics
1.1.1. Keeping in Touch Newsletter
2. Reinvolvement
2.1. Support from a buddy is desired
2.1.1. Assistive technology devices and services
2.1.2. Audiology – identifies and provides services for children with hearing loss
2.1.3. Medical services
2.1.4. Occupational therapy
2.1.5. Physiotherapy – services that focus on the identification and promotion of optimal movement development. PTs provide support in the areas of neuromuscular, musculoskeletal, cardiovascular, respiratory functioning, and posture control.
2.1.6. Speech pathology
2.1.7. Psychological services
2.2. Large Display Scientific Calculato
2.3. Positive moments including making new friends
2.3.1. Magnification Tools
2.3.1.1. Feelings of homesickness lessen
2.3.2. TTY (telecommunications device for the deaf
2.3.3. A Tactaid can help a deaf person understand sounds by providing coded sound information through vibrators placed on the individual's skin
3. Developmental Delay
3.1. Assistive Technology
3.2. The condition of a child being less developed mentally or physically than is normal for its age.
3.3. There are five main areas of development in which kids can have delays
3.4. https://youtu.be/tSs0p1DIekU
4. Transition
4.1. Emotions ranges from sadness and loneliness to happiness and embarrassment.
4.1.1. A buddy student is seen as the best support a student can be given.
4.1.2. Often feel that the teacher does not understand them
4.1.3. IEP
4.2. Assisitive Technology
4.3. Includes schizophrenia but does not apply to children who are socially maladjusted
4.4. A person's physical, social, or cognitive skills may also be affected
4.5. Hyperactivity
4.5.1. Aggression
4.5.1.1. Withdrawal (not interacting socially
4.5.1.1.1. Immaturity
5. Hearing Impairment
5.1. Intervention/ Modification
5.1.1. Individualized Family Service Plan (IFSP)
5.1.2. Bilingual American Sign Language (ASL)-English (Bi-Bi)
5.2. Impairment in hearing, whether permanent or fluctuating, that adversely affects a child's educational performance but is not included under the definition of "deafness.
5.3. Assistive Technology
5.3.1. Hearing aid or an implant
5.3.2. An infrared system uses invisible light beams to carry sound from the source to a personal receiver
6. Leaving
6.1. Students experience feelings of grief, sadness, and stress.
6.1.1. Implementation of an IEP
6.1.2. Individualized Education Program
6.1.3. Two areas that caused the most stress for students are making new friends and learning a new language
6.1.3.1. Mixed feelings about staying in touch with old friends
6.2. Assisitive Technology
6.2.1. IQ, is usually measured by a test called an IQ test
6.3. Significant limitations in both intellectual functioning and adaptive behavior
6.4. More than 545,000 children (ages 6-21) have some level of intellectual disability
7. Other Health Impairment
7.1. Intervention/Modification
7.1.1. Encouraging Exploration
7.1.1.1. ncidental Learning
7.2. Assistive Technology
7.2.1. Abbreviation expanders
7.2.1.1. Alternative keyboards
7.3. Electronic math work sheets
7.3.1. Audio books and publications
7.4. Can be limited strength, vitality, or alertness
8. Specific Learning Disabilitiy
8.1. Intervention/Modification
8.1.1. https://youtu.be/8m1fCz3ohMhttps://youtu.be/8m1fCz3ohMw
8.1.2. Observe child's language development. Be on the alert for problems in rhyming, pronunciation, and word finding also problems in rhyming, pronunciation, and word finding.
8.2. Assistive Technology
8.2.1. Bookshare
8.2.1.1. Offers approximately 90,000 digital books, textbooks, teacher‐recommended reading, periodicals and assistive technology tools
8.2.2. NaturalReader 10
8.2.2.1. Text to Speech software with natural sounding voices
8.2.3. Apple devices come equipped with the VoiceOver feature that serves as a screen reader for those with visual disabilities
8.2.4. Audiobooks
8.3. https://youtu.be/sIoKg3ResyI
9. Speech or Language Impairment
9.1. Intervention/Modificatioon
9.1.1. Helping children with articulation disorders to learn proper production of speech sounds
9.1.2. Assisting children with voice disorders to improve their voice quality
9.2. Assistive Technology
9.2.1. Array of computer software packages
9.2.2. First Words, a language program that has a number of applications for teaching those who are developing or reacquiring language functions
9.2.3. Augmentative or alternative communication (AAC).
9.2.3.1. Use of symbols, aids, strategies, and techniques to enhance the communication process
9.2.3.2. Most basic AAC devices are non-electronic communication boards
9.3. A communication disorder, such as stuttering, impaired articulation, a language impairment, or a voice impairment, that adversely affects a child's educational performance
10. Entering
10.1. Students experience feelings of change and not belonging.
10.1.1. Buddies are essential to a successful transition
10.2. New changes for the student include food, language and schooling.
10.2.1. Keyboarding Instruction
10.2.2. Navigate the Computer without a Mouse
10.2.3. Word Processing & shortcuts
10.3. Support can be given from teachers and school counselors
11. Involvement
11.1. To begin the process, the new school should make the initial contact to the family. They should introduce the new teacher, provide them with the school website, and provide resources to help the student transition.
11.1.1. Students are settled in their current school and country
11.1.2. Student feel both excitement and anticipation while also having worries and concerns at the same time
11.2. Assistive Technology
11.2.1. specialized chairs, desks, and tables for proper posture development
11.2.1.1. specialized exercise equipment
11.3. Orthopedic impairment is defined as a severe orthopedic impairment that adversely affects a child's educational performance
11.4. https://youtu.be/MITnq3eiH9c
12. Traumatic Brain Injury
12.1. Traumatic brain injury (TBI) is one of the leading causes of disability among children and young adults in the United States.
12.2. Assistive Technology
12.2.1. Small voice recorders on keychains
12.2.1.1. The Ultra Key Seeker beeps and flashes to assist in locating lost keys.
12.2.2. Handheld microcomputers, such as the Palm Pilot
12.2.2.1. The Visual Assistant
12.2.2.1.1. The Pill Alert
12.2.3. The Boil Alert
12.2.4. technical equipment and materials such as tape recorders, calculators, electronic spellers, computers or word processors, augmentative communication devices
12.3. Intervention
12.3.1. Common Sequelae of TBI
12.3.1.1. Structuring the Environment
12.3.1.1.1. Modifications to existing materials
12.3.2. external cues used to remind students include labels, maps checklists, pictures or icons, photograph cues, post-it-notes, calendars, planners, and journals