Notebooks By Guadalupe Diaz
by Guadalupe Diaz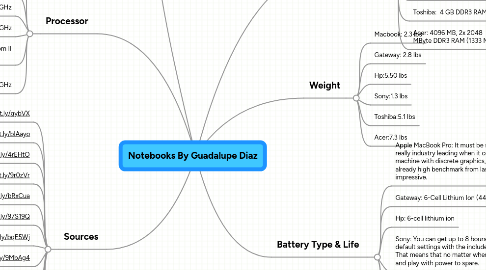 1. Memory
1.1. Macbook: 160GB 5400rpm SATA hard disk drive
1.2. Gateway: 4096MB Dual-Channel DDR3 1066MHz sDRAM9
1.3. Hp:Memory Slots1 x 204-Pin DDR3 SO-DIMM Memory 1GB Max Memory Supported 3GB
1.4. Sony: RAM/Expandable to: 8GB/8GB Hard Drive Size/Speed: 500GB/7,200 rpm
1.5. Toshiba: 4 GB DDR3 RAM 1066 MHz
1.6. Acer: 4096 MB, 2x 2048 MByte DDR3 RAM (1333 MHz )
2. Best Brands
2.1. Apple MacBookPro
2.2. Gateway NB7915U
2.3. Hp Mini 5102
2.4. Sony Vaio Z series Vpc-z116gx/s
2.5. Toshiba Satelite E205-x1904 bundle
2.6. Acer Aspire 5745DG 3D
3. Sources
3.1. http://bit.ly/gybVX
3.2. http://bit.ly/bIAayo
3.3. http://bit.ly/4rEHtO
3.4. http://bit.ly/9r0zVr
3.5. http://bit.ly/bRxCua
3.6. http://bit.ly/97S19Q
3.7. http://bit.ly/bqE5Wj
3.8. http://bit.ly/9MbAg4
3.9. http://bit.ly/9GcxNf
3.10. http://bit.ly/cGMU8L
3.11. http://bit.ly/elL0eK
3.12. http://bit.ly/a97ExL
3.13. http://bit.ly/arrmI1
4. Battery Type & Life
4.1. Apple MacBook Pro: It must be said, Apple's battery life is really industry leading when it comes to a Core i5 or Core i7 machine with discrete graphics, but compared to their already high benchmark from last generation, it seems less impressive.
4.2. Gateway: 6-Cell Lithium Ion (4400 mAh) Up to 4-hours 30 minutes10
4.3. Hp: 6-cell lithium ion
4.4. Sony: You can get up to 8 hours7 of battery life on default settings with the included large capacity battery. That means that no matter where you are, you can work and play with power to spare.
4.5. Toshiba: When I streamed a 45 minute episode of Burn Notice to my HDTV battery life took a major hit dropping to just 2 hours and 4 minutes with the remaining time spent browsing the web.
4.6. Acer: Acer has fitted the Aspire 5745DG with a hefty nine-cell battery which not only raises the case by about 2 cm - thereby making it more comfortable actually - but also promises a good battery life thanks to its 99 Wh. And when tested, the notebook actually does last quite a while away from the power outlet.
5. Weight
5.1. Macbook: 2.3 lbs
5.2. Gateway: 2.8 lbs
5.3. Hp:5.50 lbs
5.4. Sony:1.3 lbs
5.5. Toshiba:5.1 lbs
5.6. Acer:7.3 lbs
6. Processor
6.1. Macbook: Intel Core 2 Duo 1.4 GHz
6.2. Gateway: Intel Atom N450 / 1.66 GHz
6.3. Hp: Intel Pentium P6100 / 2.00 GHz
6.4. Sony: Intel Atom Z530 / 1.6 GHz
6.5. Toshiba: AMD Phenom II N850 / 2.2 GHz
6.6. Acer: AMD Phenom II Quad Core N930 / 2 GHz