Selma Prodanovic
by
Dan Taylor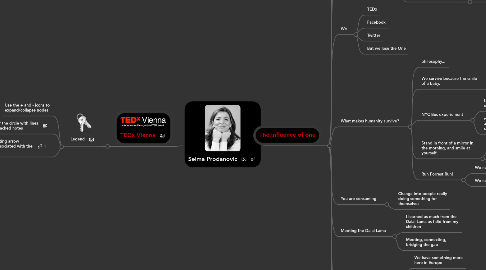 0.0
stars -
0
reviews range from
0
to
5
Selma Prodanovic
Selma Prodanovic is an entrepreneur and philanthropist, known as the discoverer and connector of business potential. Born in Sarajevo, Bosnia-Herzegovina, Selma was educated in Tunisia and Madrid, and has been based in Vienna since 1991. Selma has twenty years of professional experience in new business development, creative industries and international marketing in Europe and beyond. In 2005 she founded Brainswork, the boutique business development consultancy with an independent office in the US and 132 carefully selected partners worldwide. Convinced that everyone can make a positive difference in this world, she initiated IncrediblEurope, the first bottom-up value-changer in and for Europe and established the "Brainswork – Make a difference"-Awards.
TEDx Vienna
Legend
The influence of one
exploring the human capacity
What do I do for a living?
We
What makes humanity survive?
You are consuming
Meeting the Dalai Lama
Comparing to Silicon Valley
It's not about ground breaking innovation
Yes I will make a positive difference!!!!