Main topics
by DANIEL CISNEROS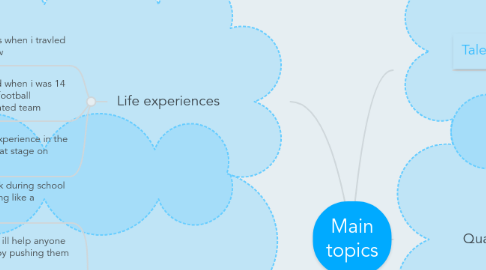 1. Talents
1.1. One of my good talents is in sports, i won many trophies in football and baseball as well
1.2. One of my best talents is im really good at math and ill understand how to solve a problem if explained to me.
1.3. I am cooperative and im a good listener when someone explains things to me face to face
2. Goals
2.1. One of my goals is to finish High school so i could receive my diploma
2.2. A second goal i have is after i receive my highschool is to go to college
2.3. Reason why i want to go to college is so i could get my electrical engineering degree
2.4. My biggest goals is to have my own house so i don't have to live with my parents anymore and be independent.
2.5. Another goal i have is to travel to alot of places i never been too because theres so much more out there to do besides staying in your own city for life.
3. Life experiences
3.1. one of my first life experience is when i travled to lake tahoe, to go to the snow
3.2. Another life experience i had when i was 14 years old and i won my first football championship by an undefeated team
3.3. An experience im going to experience in the future is when i walk down that stage on graduation day
4. Personal details
4.1. Im always focused and on task during school work, once im doing something like a worksheet, i have to finish it
4.2. I'm always positive and ill help anyone that needs help in life by pushing them also to succed
4.3. I am self motivated and i plan on keeping any negativity out of my life.
4.4. I am open mined and ill tell you what im doing wrong in life and what are the best ways to fix my problems
4.5. I am a shy person but once i get comfortable with anyone i start to be more socializing
5. Qualities
5.1. One of my qualities i have is, i'm never a follower and i like to be my own leader.
5.2. another quality i have is that i may have a bad background on my past but ill like to have a good one in the future.
5.3. another quality i have is i will tell you the truth and give you my best advice to you
5.4. Another quality i have is i never interrupt somebody life or conversation unless they let me too