What is a Search
by Dylan Paradis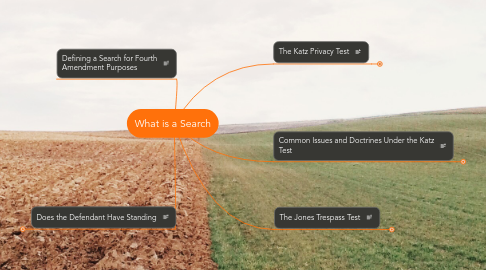 1. The Jones Trespass Test
1.1. United States v. Jones, ____ U.S. ___, 123 S. Ct. 945 (2012)
1.2. Florida v. Jardines, ___ U.S. ___, 123 S. Ct. 1409 (2013)
1.3. Grady v. North Carolina, ___ U.S. ___, 135 S. Ct. 1368 (2015)
2. Common Issues and Doctrines Under the Katz Test
2.1. Plain View Doctrine
2.1.1. United States v. Lee, 274 U.S. 559 (1927)
2.1.2. Kyllo v. United States, 533 U.S. 27 (2001)
2.2. Viewing Property By Overflight
2.2.1. California v. Ciraolo, 476 U.S. 207 (1987)
2.2.2. Florida v. Riley, 488 U.S. 445 (1989)
2.2.3. Dow Chemical Co. v. United States, 476 U.S. 227 (1986)
2.3. Open Fields
2.3.1. Hester v. United States
2.3.2. Oliver United States, 466 U.S. 170 (1984)
2.3.3. United States v. Dunn, 480 U.S. 294 (1987)
2.3.3.1. Proximity of area claimed to be curtilage
2.3.3.2. Enclosure of area and home
2.3.3.3. Nature of use
2.3.3.4. Steps taken to protect area from observation
2.4. Knowing Exposure of Property or Information to Third Parties
3. The Katz Privacy Test
3.1. Katz v. United States, 389 U.S. 347 (1967)
3.1.1. The "Society" Question
3.1.1.1. An entitlement defined by positive law
3.1.1.2. The nature of the use to which the space can be put
3.1.1.3. A manifestation of the right to privacy in a way that most people would understand and respect
3.2. U.S. v. Place, 462 U.S. 696 (1983) (The use of a drug dog to perform a sniff of luggage)
3.3. Illinois v. Caballes, 543 U.S. 405 (2005)
3.4. United States v. Jacobsen, 466 U.S. 109 (1984)
3.5. California v. Greenwood, 486 U.S. 35 (1988)
3.6. United States v. White, 401 U.S. 745 (1971)
3.7. United States v. Knotts, 460 U.S. 276 (1983)
3.8. United States v. Karo, 468 U.S. 705 (1984)
4. Defining a Search for Fourth Amendment Purposes
5. Does the Defendant Have Standing
5.1. When Standing Is Premised on Ownership or Presence in Real Property
5.1.1. The person subjected to the premises owns the residence
5.1.2. The person subjected to the premises is not an owner, but is a tenant or leaseholder who lives in the premises
5.1.3. Defendant does not live in the premises but is an overnight guest - LIMITED STANDING
5.1.4. Defendant does not live in the premises, and is merely a licensee or invitee, the defendant will not typically have standing to challenge a search or seizure.
5.2. When Standing is Based on Ownership of Personal Property
5.2.1. Did the property have a reasonable expectation of privacy in the area from which the property was seized?
5.2.2. Hiding drugs in the effects of others - purses, bags, or containers
5.2.3. Passengers in automobiles challenging discovery of items found within automobile