meisterminds
by
Willem Broer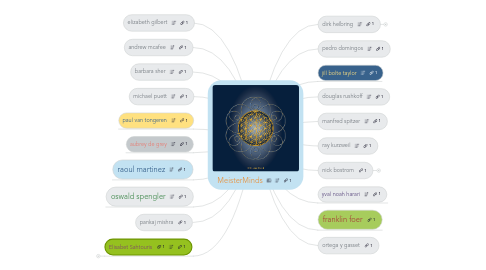 0.0
stars - reviews range from
0
to
5
MeisterMinds verzamelt artikelen uit het nieuws over Kunst en Wetenschap. Voor de Nieuwe Tijd, want zo mogen we de 21e eeuwbest heten, zijn Nieuwe Mensen nodig, Mensen met een Nieuwe Kijk op de Wereld. Mensen die zichzelf durven zijn en graag samen willenwerken: je moet eerst iets te bieden hebben, voordat je wat kunt delen. Mensen die hun Weg vinden in een Wereld waar Computers de Dienstuitmaken. Mensen die ontwikkelen waar Computers geen weet van hebben: Intuitie en Creativiteit. "The intuitive mind isa sacred gift and the rational mind is a faithful servant. We have created asociety thar honors the servant and has forgotten the gift."(Albert Einstein) Intuitieve Logica naast Rationele: daarom, volg je Hart engebruik je Verstand met een Programma dat een Oud Medium aan een Nieuw Mediumkoppelt.  Het Labyrint is duizenden jaren oud en het brengt je naar Jezelf.  Mindmappen bestaan sinds kort en helpen je ervaringen teverwerken: Focus en Inzicht, Structuur en Overzicht. Zo  volg je jouw Paden maak je jouw Verhaal! Klik hier omnaar het Programma te gaan.
kinderen van breznjef
Live the path to the vibrant, fulfilling life you've dreamed of. Readers of all ages and walks of life have drawn inspiration and empowerment from Elizabeth Gilbert's books for years. Now this beloved author digs deep into her own generative process to share her wisdom and unique perspective about creativity. With profound empathy and radiant generosity, she offers potent insights into the mysterious nature of inspiration. She asks us to embrace our curiosity and let go of needless suffering. She shows us how to tackle what we most love, and how to face down what we most fear. She discusses the attitudes, approaches, and habits we need in order to live our most creative lives. Balancing between soulful spirituality and cheerful pragmatism, Gilbert encourages us to uncover the "strange jewels" that are hidden within each of us. Whether we are looking to write a book, make art, find new ways to address challenges in our work, embark on a dream long deferred, or simply infuse our everyday lives with more mindfulness and passion, Big Magic cracks open a world of wonder and joy.
Helbing's research into complexity, individual vs cooperative behavior, and emergent behavior, makes it clear that the various economic ideologies are ALL correct within certain contexts. Austrians, Keynesians, Neo-Classical, and others. Each blames the other for failures. Each credits themselves for successes, counterfactual or actual. Unfortunately, implementing his participatory market society will be an uphill battle due to close minded idealogues in political positions hindering an implementation of change, experimental or otherwise. I speak of the US. More fertile ground in developing countries where they find it easier and more productive to adopt new technologies and ways of thinking than the old within developed countries. (e.g. cell phones rather than land-lines).
How the Quest for the Ultimate Learning Machine Will Remake Our World
"The Second Machine Age offersimportant insights into how digital technologies are transforming our economy, a process that has only just begun. Erik and Andrew's thesis: As massive technological innovation radically reshapes our world, we need to develop new business models, new technologies, and new policies that amplify our human capabilities, so every person can stay economically viable in an age of increasing automation. I couldn't agree more." —Reid Hoffman, co-founder/chairman of LinkedIn and co-author of the #1 NYT bestseller The Start-up of You "How we build, use, and live with our digital creations will define our success as a civilization in the 21st century. Will our new technologies lift us all up or leave more and more of us behind? The Second Machine Age is the essential guide to how and why that success will, or will not, be achieved." —Garry Kasparov, 13th World Chess Champion
Barbara Sher is a business owner, career counselor, and best-selling author of seven books, each of which provides a down-to-earth, nuts-and-bolts method for uncovering natural talent, pinpointing goals and turning dreams into reality. She has often been named the "godmother of life coaching" by the media and her many fans. Barbara has presented seminars and workshops throughout the world to universities, professional organizations, Fortune 100 corporations, and federal and state government agencies. She has been called "a standup comic with a message" and "the best speaker we have ever seen," in evaluations. Joining forces with public television, she has also created five hour-long special programs that continue to air in cities around the U.S.
De weg daagt ons uit onze diepgewortelde overtuigingen te herzien. Volgens Puett betekent 'het goede leven' niet een groots programma of doel uitvoeren, maar een weg bewandelen. Aan de hand van voorbeelden uit het alledaagse leven, legt Puett de denkbeelden van de oude Chinese filosofen uit. Hij inspireert tot kleine, haalbare veranderingen in onze manier van werken, opvoeden, politiek bedrijven en relaties aangaan, met mogelijk verstrekkende gevolgen voor onszelf en de wereld. De weg biedt een nieuwe kijk op bijna alles!
There is currently an amazing video on youtube.com called "Ode to the Brain!" by Symphony Science, that is taking a viral trip around the world. If you have not seen it, you can find it here: http://www.youtube.com/watch?v=JB7jSFeVz1U
emeritus hoogleraar wijsgerige ethiek, faculteit FTRRadboud Universiteit Nijmegen buitengewoon hoogleraar ethiekHoger Instituut voor WijsbegeerteKatholieke Universiteit Leuven
Generation Like Fretting about social media corrupting youth these days risks sounding like an earlier generation of parents wringing their hands over Elvis and the Beatles. Yet Frontline has found a way into the conversation by delving into the insidious way corporate marketers — including Hollywood — have insinuated themselves into the process, turning enthusiastic fans into co-opted marketing minions. "Generation Like" is a fascinating look into a world where Retweets, Likes and other online endorsements have become social currency, spawning a new breed of consultants unabashedly seeking to take the risk out of public opinion." — Brian Lowry, Variety Throwing Rocks at the Google Bus "Every great advance begins when someone sees that what everyone else takes for granted may not actually be true. Douglas Rushkoff questions the deepest assumptions of the modern economy, and blazes a path towards a more human centered world." –Tim O'Reilly, founder of O'Reilly Media
De beerput over de negatieve gevolgen van smartphone- en tabletgebruik is weer open getrokken. Veroorzaker: het nieuwe boek Digiziekvan Duitse psychiater Manfred Spitzer. In zijn nieuwe boek betuigt de internationaal bekende Duitse psychiater dat digitale media ervoor zorgen dat kinderen hun motoriek en zintuigen onvoldoende ontwikkelen.Kinderen lopen een ontwikkelingsachterstand op, kunnen zich slechter concentreren en krijgen veel te weinig beweging. En dat allemaal door het gebruik van smartphones en tablets.Spitzer is onder andere kritisch op het gebruik van smartphones en tablets in het onderwijs. Volgens hem leren kinderen niets van het herhaaldelijk en monotoon vegen over een schermpje: ze moeten dingen ervaren en voelen. Peter Nikken, specialist op het gebied van jeugd,media en opvoeding van het Nederlands Jeugdinstituut (NJi) sluit zich daar bij aan. "Echte ervaringen zijn veel belangrijker." Je slaat informatie namelijk beter op als je het opschrijft in plaats van dat je het swipet of intypt.
SENS by the way, stands for Strategies for Engineered Negligible Senescence. The ultimate purpose of maintaining a state of negligible senescence is the postponement of age-associated disease as long as the therapies are reapplied.LE: You have recently joined the Scientific Advisory Board of the Life Extension Foundation®. What do you hope to accomplish as a Board Member?AdG: I'm delighted and honored to have been invited to join Life Extension Foundation's® Scientific Advisory Board. I accepted with pleasure, because I think I can offer a range of expertise concerning biomedical research, a field that is not the sole source of Life Extension Foundation's® business but very much does form a key component of the efforts into which Life Extension Foundation® reinvests its profits.LE: When Life Extension magazine® interviewed you in 2006 you were managing the Methuselah Foundation. Since then you have created the SENS Foundation. Can you explain the difference between the two foundations?AdG: The Methuselah Foundation is still run by the person with whom I co-founded it, Dave Gobel. We split it in two (forming SENS Foundation, which we have recently renamed SENS Research Foundation) in 2009 because we came to the conclusion that it was not proving efficient, from an outreach and fundraising perspective, to have one organization pursuing two very different approaches to the same mission, namely prizes (the MF's original focus) and direct sponsorship of research. So SENS Research Foundation now handles the research sponsorship and Methuselah is mainly back on prizes. We are still on totally cordial terms and I think everyone feels that it was the right decision: both organizations have thrived since the split.
By the 2020s, most diseases will go away as nanobots become smarter than current medical technology. Normal human eating can be replaced by nanosystems. The Turing test begins to be passable. Self-driving cars begin to take over the roads, and people won't be allowed to drive on highways.By the 2030s, virtual reality will begin to feel 100% real. We will be able to upload our mind/consciousness by the end of the decade.By the 2040s, non-biological intelligence will be a billion times more capable than biological intelligence (a.k.a. us). Nanotech foglets will be able to make food out of thin air and create any object in physical world at a whim.By 2045, we will multiply our intelligence a billionfold by linking wirelessly from our neocortex to a synthetic neocortex in the cloud.I want to make an important point.It's not about the predictions.It's about what the predictions represent.
Prof. Yuval Noah Harari is the author of the international bestsellers Sapiens: A Brief History of Humankind and Homo Deus: A Brief History of Tomorrow.He received his Ph.D. from the University of Oxford in 2002, and is now a lecturer at the Department of History, the Hebrew University of Jerusalem.He specialized in World History, medieval history and military history. His current research focuses on macro-historical questions: What is the relation between history and biology? What is the essential difference between Homo sapiens and other animals? Is there justice in history? Does history have a direction? Did people become happier as history unfolded?Prof. Harari twice won the Polonsky Prize for Creativity and Originality, in 2009 and 2012. In 2011 he won the Society for Military History's Moncado Award for outstanding articles in military history. In 2012 he was elected to the Young Israeli Academy of Sciences.
Raoul Martinez is een belangrijk inspiratie bron, leid ik af uit de website HumaanLokaal.Martinez; "Vrije markt, vrije verkiezingen, vrije wil, vrijheid van meningsuiting, vrijheid van drukpers. Vrijheid is het fundament van onze democratie, van onze manier van leven – van wat het is om mens te zijn. Maar het is vervormd en lijkt vaak het tegenovergestelde te rechtvaardigen: toenemende ongelijkheid, de erosie van de democratie, een irrationeel strafrechtelijk systeem en een onmenselijk buitenlandbeleid."In Hoe vrij zijn wij? ontrafelt Raoul Martinez de heilige mythe van de vrijheid. Aan de hand van bevindingen en ideeën uit de neurowetenschappen, criminologie, psychologie, politiek, klimaatwetenschap, economie en filosofie, laat hij zien dat de overtuiging dat onze instituten onafhankelijk zijn en het idee dat wij beschikken over een vrije wil, gebaseerd zijn op onjuiste aannames. Van de plek waar we geboren zijn en de sturende invloed van de media tot de blikvernauwende realiteit van macht – dit manifest demonstreert hoe anders we ons zouden gedragen als we de wereld zouden accepteren zoals die werkelijk is. Maar dat we die met empathie, verbeeldingskracht en vastberadenheid wél radicaal kunnen hervormen. uitgeverijatlas contactIk heb het boek (nog) niet gelezen. De laatste zin van voorgaand stukje belooft veel.Janita Naaijer schrijft in de Volkskrant "Hoopvol en intelligent pleidooi voor progressieve toekomst"http://www.volkskrant.nl/recensies/hoopvol-en-intelligent-pleidooi-voor-progressieve-toekomst~a4481419/Stuart Jeffries schrijft in The guardian een uitgebreidere recensie.https://www.theguardian.com/books/2016/dec/13/raoul-martinez-writing-creating-freedom-artistTenminste, ik neem aan dat Creating Freedom het originele engelstalige boek is.
Der Untergang des Abendlandes (De ondergang van het Avondland) is een tweedelig werk door de Duitse filosoof Oswald Spengler. Het eerste deel werd in de zomer van 1918 gepubliceerd. Spengler heeft dit deel in 1922 gereviseerd en publiceerde in 1923 het tweede deel, met als ondertitel Perspectieven van de Wereldgeschiedenis.Het boek introduceert zich zelf als een 'Copernicaanse revolutie' en verwerpt de eurocentrische kijk op de geschiedenis, in het bijzonder de verdeling van de geschiedenis in de klassieke lineaire tijdvakken: "antiek - middeleeuws - modern"[1] Volgens Spengler zijn de betekenisvolle eenheden niet tijdperken, maar culturen, die als organismen evolueren.
Die Abhandlung beginnt mit einem Nachtrag zu Freuds Schrift Die Zukunft einer Illusion von 1927. Freud bekräftigt die dort entwickelte These von der Vatersehnsucht als Grundlage der Religion. Romain Rolland hatte dagegen eingewandt, die letzte Quelle der Religion sei das "ozeanische Gefühl". Freud rekonstruiert dieses Gefühl als primären Narzissmus ohne Grenze zwischen Ich und Außenwelt, und er räumt ein, dass dieser Narzissmus in Beziehung zur Religion geraten sein könne. Seine Bedeutung für die Religion sei allerdings sekundär. (Teil I)