studymeister
by
Willem Broer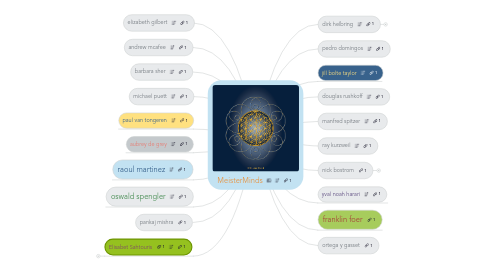 0.0
stars - reviews range from
0
to
5
Studyhub verzamelt artikelen uit het nieuws over Kunst en Wetenschap.  Voor de Nieuwe Tijd, want zo mogen we de 21e eeuwbest heten, zijn Nieuwe Mensen nodig, Mensen met een Nieuwe Kijk op de Wereld. Mensen die zichzelf durven zijn en graag samen willenwerken: je moet eerst iets te bieden hebben, voordat je wat kunt delen. Mensen die hun Weg vinden in een Wereld waar Computers de Dienstuitmaken. Mensen die ontwikkelen waar Computers geen weet van hebben: Intuitie en Creativiteit. "The intuitive mind isa sacred gift and the rational mind is a faithful servant. We have created asociety thar honors the servant and has forgotten the gift."(Albert Einstein) Intuitieve Logica naast Rationele: daarom, volg je Hart engebruik je Verstand met een Programma dat een Oud Medium aan een Nieuw Mediumkoppelt.  Het Labyrint is duizenden jaren oud en het brengt je naar Jezelf.  Mindmappen bestaan sinds kort en helpen je ervaringen teverwerken: Focus en Inzicht, Structuur en Overzicht. Zo  volg je jouw Paden maak je jouw Verhaal! Klik hier omnaar het Programma te gaan.
kinderen van breznjef
Live the path to the vibrant, fulfilling life you've dreamed of. Readers of all ages and walks of life have drawn inspiration and empowerment from Elizabeth Gilbert's books for years. Now this beloved author digs deep into her own generative process to share her wisdom and unique perspective about creativity. With profound empathy and radiant generosity, she offers potent insights into the mysterious nature of inspiration. She asks us to embrace our curiosity and let go of needless suffering. She shows us how to tackle what we most love, and how to face down what we most fear. She discusses the attitudes, approaches, and habits we need in order to live our most creative lives. Balancing between soulful spirituality and cheerful pragmatism, Gilbert encourages us to uncover the "strange jewels" that are hidden within each of us. Whether we are looking to write a book, make art, find new ways to address challenges in our work, embark on a dream long deferred, or simply infuse our everyday lives with more mindfulness and passion, Big Magic cracks open a world of wonder and joy.
How the Quest for the Ultimate Learning Machine Will Remake Our World
"The Second Machine Age offers important insights into how digital technologies are transforming our economy, a process that has only just begun. Erik and Andrew's thesis: As massive technological innovation radically reshapes our world, we need to develop new business models, new technologies, and new policies that amplify our human capabilities, so every person can stay economically viable in an age of increasing automation. I couldn't agree more." —Reid Hoffman, co-founder/chairman of LinkedIn and co-author of the #1 NYT bestseller The Start-up of You "How we build, use, and live with our digital creations will define our success as a civilization in the 21st century. Will our new technologies lift us all up or leave more and more of us behind? The Second Machine Age is the essential guide to how and why that success will, or will not, be achieved." —Garry Kasparov, 13th World Chess Champion
De weg daagt ons uit onze diepgewortelde overtuigingen te herzien. Volgens Puett betekent 'het goede leven' niet een groots programma of doel uitvoeren, maar een weg bewandelen. Aan de hand van voorbeelden uit het alledaagse leven, legt Puett de denkbeelden van de oude Chinese filosofen uit. Hij inspireert tot kleine, haalbare veranderingen in onze manier van werken, opvoeden, politiek bedrijven en relaties aangaan, met mogelijk verstrekkende gevolgen voor onszelf en de wereld. De weg biedt een nieuwe kijk op bijna alles!
Generation Like Fretting about social media corrupting youth these days risks sounding like an earlier generation of parents wringing their hands over Elvis and the Beatles. Yet Frontline has found a way into the conversation by delving into the insidious way corporate marketers — including Hollywood — have insinuated themselves into the process, turning enthusiastic fans into co-opted marketing minions. "Generation Like" is a fascinating look into a world where Retweets, Likes and other online endorsements have become social currency, spawning a new breed of consultants unabashedly seeking to take the risk out of public opinion." — Brian Lowry, Variety Throwing Rocks at the Google Bus "Every great advance begins when someone sees that what everyone else takes for granted may not actually be true. Douglas Rushkoff questions the deepest assumptions of the modern economy, and blazes a path towards a more human centered world." –Tim O'Reilly, founder of O'Reilly Media