PC Operating Systems
by
Evelyn Villagrana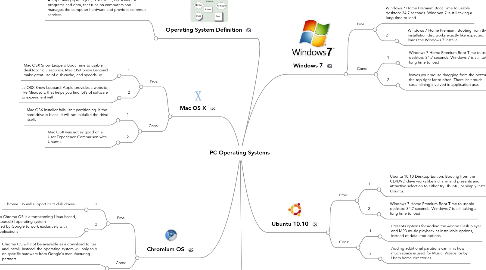 0.0
stars - reviews range from
0
to
5
PC Operating Systems
Windows 7
Windows 7 Home Premium Boot Time to usable desktop: 34.7 seconds. Windows 7 is still taking a long time to load
2, Windows 7 Home Premium: Booting from the installation disc works exactly like expected, and loads the Windows 7 installe
1, Windows 7 Home Premium Boot Time to usable desktop: 34.7 seconds. Windows 7 is still taking a long time to load
2, leaves your mouse dragging from the bottom left, to the top right far to often. There isn't much streamlining involved in application use.
Mac OS X
Pros:
1, Mac OSX Snow Leopard Boot Time to usable desktop: 16.3 seconds. Mac OSX Snow Leopard make great use of disk cache, and speeds up
2, ac OSX Snow Leopard: Apple provides a website, like Microsoft, that helps you find lot's of software to experiment with
Cons:
1, Mac OSX installer fails, isn't partitioning. If the hard drive is blank, it will not initialize the drive itself.
2, Mac OSX was not as good on a User Experience Comparison with Ubuntu.
Ubuntu 10.10
1, Ubuntu 10.10 Desktop Edition: Booting from the CD/DVD drive works like a charm and presents and attractive selection to either try Ubuntu, or simply Install Ubuntu.
2, Windows 7 Home Premium Boot Time to usable desktop: 34.7 seconds. Windows 7 is still taking a long time to load
1, Presents options for adding the Adobe Flash player and MP3 music playback as installable options, instead of defaulted options.
2, Adding additional partitions can limit how much space is used for Music, Videos, or by Users home directories.
Chromium OS
1, Chrome OS will support hard disk drives,
2, Google Chrome OS is a forthcoming Linux-based, open source[3] operating system designed by Google to work exclusively with web applications
Chrome OS will not be available as a download to run and install. Instead, the operating system will only ship on specific hardware from Google's manufacturing partners.
2, operating system will only ship on specific hardware from Google's manufacturing partners.[
Operating System Definition
An operating system (OS) is software, consisting of programs and data, that runs on computers and manages the computer hardware and provides common services
New node