Do you remember who first went to the tomb on the first Easter morning?
by Antony Mitchell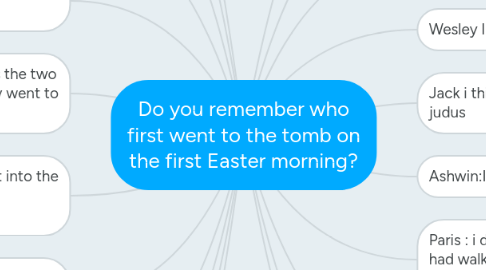 1. Paulina: i dont remember but I think it is Mary.
2. I think two women(one named Mary Magdeline) found the tomb open. But before that an angel appeared before him. By Mahdiya.
3. esmee i am not sure i think it was God
4. Adam I think that it was 2 disciples and Mary Madelin.
5. Dalton: I dont know but i think its the two women who found the tomb open.
6. I think that Mary Magdalen went to the tomb to put special herbs and scents. Aniela
7. Wesley I think it was Mary and Joseph
8. Anthony, The first person that went into the tomb was Mary Magdeline.
9. Jack i think it was Tomas and surely judus
10. Casey,I think it is Mary his mother and the angle.
11. Rhianna: I think that it was the two women because then they went to speak the good news.
12. Katie: It was Mary who went into the tomb and when she did she weeped.
13. Josh I think that Mary went to remember him then a angle appeared to say where he had gone
14. Ellie:The first person was Mary Magdelline.
15. Rachel:It was Mary
16. Harleigh: It was Mary the mother of Jesus.
17. Ashwin:I think it is Mary
18. Lewis i think Mary went to the tomb first.
19. Paris : i don't know because two people had walked past and noticed that the tomb had been opended.
20. kyle,the first person to go to the tomb on Easter morning was Mary magdeline.
21. sienna,I think it is Mary.
22. mary OWEN