Conflict in the Crucible   (Block 5)
by Jordyn Kahlbaugh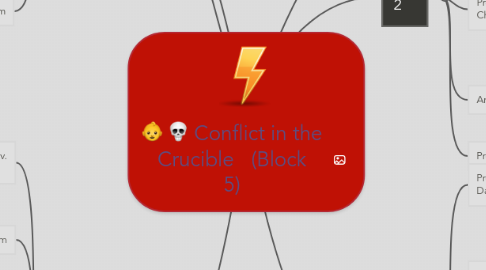 1. Proctor could not restate the 10 commandments
2. Act 1
2.1. Parris v. Abigail
2.1.1. PARRIS QUESTIONS ABBYS REP
2.2. Putnam v. Parris
2.2.1. PUTNAM ANGRY ABOUT PARRIS FAMILY INOVLED IN WITCH HUNTS
2.3. Abigail v. Girls
2.3.1. GIRLS WANT TO BE TRUTH, ABBY WANTS TO CONTINUE
2.4. Proctor v. Abigail
2.4.1. AFFAIR, PROCTOR FORGET, ABBY WANTS HIM!
2.5. John Proctor v. Self
2.6. Putnam's v. Nurse's
2.6.1. LAND DISPUTES
2.7. Proctor v. Parris
2.7.1. GUILTY ABOUT HIS AFFAIR
2.7.2. MONEY & PREACH
2.8. Proctor v. Putnam
2.8.1. LAND OWNERSHIP.
3. Act 3
3.1. Giles Cory & Francis Nurse v. Court
3.1.1. They presented new evidence to prove the girls are lying but the court denied the evidence because Giles wouldn't give the name of his informant.
3.1.1.1. "I will give you no name. I mentioned my wife's name once and I'll burn in hell long enough for that. I stand mute." -Giles Corey
3.2. Giles Corey v. Putnam
3.2.1. Corey testifies that he knows someone who heard Putnam tell his daughter to accuse his neighbors for his land. Giles says, "A fart on Thomas Putnam, that is what I say to that!"
3.3. Mary Warren v. Court
3.4. Mary Warren v. Girls
3.4.1. The girls accuse Mary of bewitching them, they don't want to get in trouble
3.4.1.1. Girls: "Stop it!!"
3.5. The court try and get her to prove that she was faking it, but she can not
3.5.1. "It is not a trick, I use to faint because I thought I  saw spirits"
3.6. Rev. Hale v. Court
3.6.1. Hale disagrees with how the court is running the rials, he thinks the girls are lying. He says "IF denounce these proceedings, I quit this court!"
3.6.2. Elizabeth tries to protect Proctor, not knowing that he already confessed to having an affair with Abigail, sending herself to jail.
3.7. Proctor v. Abigail
3.7.1. Proctor admits the affair, Abigail denies it. Proctor doesn't want her.
3.7.1.1. Proctor "How do you call heaven! Whore! Whore!"
3.8. Proctor v. Elizabeth
3.8.1. "My husband is a good and righteous man. He is never drunk...nor wastin' his time...but always works...I thought I saw my husband somewhat turning from me. And the girl...I came to think he fancied her. And so one night, I lost my wits, I think, and put her on the highroad."
3.9. Proctor V. Court
3.9.1. The Court starts to call Proctor a witch
3.9.1.1. Proctor says "God is Dead!"
3.10. Mary Warren v. Proctor
4. Act 2
4.1. John Proctor v. Elizabeth
4.1.1. Elizabeth wants him to tell the court that Abby said it is all fake, BUT Proctor does not want to.
4.1.1.1. "Then go and tell her she's a whore.  Whatever promise she may sense- break it, John, break it."
4.2. Proctor's v. Rev. Hale
4.2.1. Proctor could not recite the 10 Commandments, hale becomes concerned
4.2.1.1. Proctor (He's flailing for it)
4.2.1.2. Elizabeth "Adultery, John"
4.3. Proctor's v. Herrick & Cheever
4.3.1. They arrest Elizabeth, Proctor is angry that they arrested his WIFE
4.3.1.1. "You said she were not charged"
4.4. Ann Putnam v. Rebecca Nurse
4.4.1. Ann accused Rebecca of supernaturally of killing her precious babies, perhaps to help her husband get their land
4.4.1.1. "For the marvelous and supernatural murder of Goody Putnam's babies
4.5. Proctor v. Mary Warren
4.5.1. Proctor wants Mary to testify in court that the girls are lying, Mary is too afraid of Abby
5. Act 4
5.1. Proctor v. Danforth
5.1.1. Danforth wants Proctor to sign  confession paper, Proctor doesn't want to.
5.1.2. Danforth wants Proctor to sign the confession paper, and Proctor rips up the paper to protect the innocent people
5.2. Elizabeth v. Rev. Hale
5.2.1. rev. hale begs elizabeth to convince proctor to "confess" but she says he will choose on his own
5.3. Proctor v. Self
5.3.1. "I cannot mount the gibbet like a saint. It is a fraud. I am not that man." "God in Heaven, what is John Proctor, what is John Proctor?"
5.3.2. he has to choose if he wants to "confess" or not and destroy his name
5.3.3. Doesn't know if he wants to confess or if he is a good person
5.3.3.1. "I am no good man nothing spoiled by giving them this lie that were not rotten long before"
5.4. Rev. Hale v. Court
5.4.1. he believes the court is corrupt, Danforth doesn't want to admit mistakes
5.5. Abigail v. Parris
5.5.1. Abigail takes his money and runs away
5.5.2. Abigail steals Parris's money and runs away with Mercy Lewis.
6. Types of Conflict
6.1. CHARACTER V. CHARACTER
6.2. CHARACTER V. SELF