Johannes Grenzfurthner
by
Dan Taylor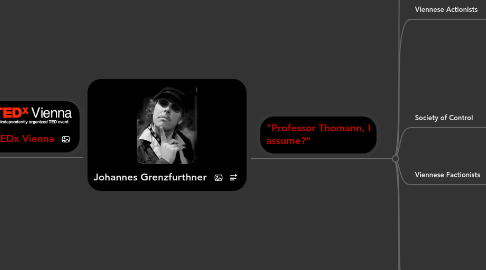 0.0
stars -
0
reviews range from
0
to
5
Johannes Grenzfurthner
Johannes Grenzfurthner is an artist, writer, curator, and director. He is the founder of monochrom, an internationally acting art and theory group. He holds a professorship for art theory and art practice at the University of Applied Sciences in Graz, Austria. He is head of the "Arse Elektronika" festival in San Francisco, host of "Roboexotica" (Festival for Cocktail-Robotics, Vienna and San Francisco), and co-curates the Paraflows Symposium in Vienna. He gave talks at SXSWi, O'Reilly ETech, FooCamp, Maker Faire, HOPE, Chaos Communication Congress, Google (Tech Talks), ROFLCon, Ars Electronica, Transmediale, Influencers or the Neoteny Camp Singapore.?He and his project have been featured in New York Times, Spiegel, San Francisco Chronicle, CNN, Reuters, Slashdot, Boing Boing, LA Times, NPR, ZDF, Gizmodo, Wired, Süddeutsche Zeitung, CNet or the Toronto Star. Recurring topics in Johannes' artistic and textual work are contemporary art, activism, performance, humor, philosophy, postmodernism, media theory, cultural studies, sex tech, popular culture studies, science fiction, and the debate about copyright.
TEDx Vienna
Legend
Use the + and - icons to expand/collapse nodes
Hover over the circle with lines to read attached notes
The forward pointing arrow indicates a link associated with the node
"Professor Thomann, I assume?"
Monochrome
a group of context hackers
looking for the best weapon of mass distribution
Subversion
Viennese Actionists
did pretty odd things, 50's, 60's, 70's, painting in blood
Provoked society
What happened?, In those days, we didn't have Jackass, Austria as a disciplinary society, A society that tells you what to do, what the borders are, Clear hierarchies, The stop signs are in our heads, how can you subvert yourself?
Society of Control
tricks you into believing that the hierarchies are gone, ...but they're not
Viennese Factionists
Austrian wine tavern
Blood sausage made of your own blood, I want to be part of the blood group
It's useless to do things like this today, on a political level
Biennale Sao Paulo
Because we're artists...we said, how much cash?, in the end, we did it, but we asked if we could send someone else., we created a fake artist, and send out press releases, Journalists didn't do their homework, 500 page biography, We posed as Technical Support
"I thought your piece was shit, but it's actually brilliant! I heard the story.", ...but we didn't know which story they person had heard
Folder to Chinese pressure to remove Taiwan, We removed letters from all the other countries, to spell out...., T A I W A N!!!, Austria becomes Aus ria
A non-existing artist, saves a country that shouldn't even exist
Twitter:
http://twitter.com/johannes_mono