LA ADMINISTRACIÓN Y SU RELACIÓN CON LA GERENCIA DE PROYECTOS
by Eliana villa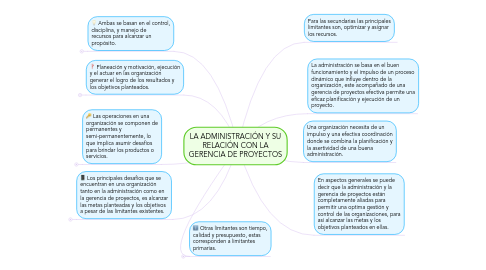 1. Otras limitantes son tiempo, calidad y presupuesto, estas corresponden a limitantes primarias.
1.1. Follow our blog to never miss an important update, downtime warning or tutorial!
2. Los principales desafíos que se encuentran en una organización tanto en la administración como en la gerencia de proyectos, es alcanzar las metas planteadas y los objetivos a pesar de las limitantes existentes.
2.1. Download our native mobile apps for iOS and Android to mind map on the go!
3. Planeación y motivación, ejecución y el actuar en las organización generar el logro de los resultados y los objetivos planteados.
3.1. With our short tutorial videos you can get to know MindMeister's most important features in a matter of minutes
4. Ambas se basan en el control, disciplina, y manejo de recursos para alcanzar un propósito.
4.1. Visit the MindMeister Academy to learn all the tricks and become a great mapper in no time!
5. Las operaciones en una organización se componen de permanentes y semi-permanentemente, lo que implica asumir desafíos para brindar los productos o servicios.
5.1. To view the most important shortcuts, click on the question mark in the bottom right corner of your map editor, then click "Key Shortcuts"
6. Para las secundarias las principales limitantes son, optimizar y asignar los recursos.
7. La administración se basa en el buen funcionamiento y el impulso de un proceso dinámico que influye dentro de la organización, este acompañado de una gerencia de proyectos efectiva permite una eficaz planificación y ejecución de un proyecto.
8. Una organización necesita de un impulso y una efectiva coordinación donde se combina la planificación y la asertividad de una buena administración.
9. En aspectos generales se puede decir que la administración y la gerencia de proyectos están completamente aliadas para permitir una optima gestión y control de las organizaciones, para así alcanzar las metas y los objetivos planteados en ellas.