To what extent does nature vs. nurture affect determine whether a child becomes a psychopaths? How do their childhood turn them into what they are?
by Aubry Torres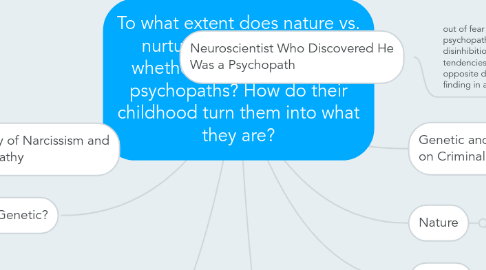 1. Genetic and Environmental Influences on Criminal Behavior
1.1. Criminal behavior has always been a focus for psychologists due to the age old debate between nature and nurture.
2. Nature
2.1. Nature is often defined in this debate as genetic or hormone-based behaviors
3. Nurture
3.1. nurture is most commonly defined as environment and experience.
4. Is Psychopathy Genetic?
4.1. one of the more interesting findings to come out of clinical studies on brain functioning is evidence of a possible biological basis for the psychopath's diminished capacity for empathy.
5. Psychopaths in our midst — what you should know What does the emerging neuroscience of psychopathy tell us about how we should deal with it?
5.1. Psychopaths are out there – ready, willing and able to take advantage of you without giving it a second thought, even if it were to ruin your life. Indeed, some psychopaths would consider it an added bonus if it did.
6. A Theory of Narcissism and Psychopathy
6.1. Heinz Kohut's theory of "Self Psychology" (or psychoanalytic psychology of the self).
7. Neuroscientist Who Discovered He Was a Psychopath
7.1. out of fear or embarrassment of being labeled a psychopath. Perhaps because boldness and disinhibition are noted psychopathic tendencies, Fallon has gone all in towards the opposite direction, telling the world about his finding in a TED Talk,
8. facts about the origins of your child's personality, and how you can help shape it
8.1. the effects of love and discipline are as potent as sunshine on a growing tree.Over the next couple of years, however, a few bombshells hit the zeitgeist, and my conviction faltered. Just after my son turned 1, a conference on infant brain development led to a spate of news reports that stated the very wiring of our babies' minds is in our hands: