CYBER BULLYING
by JUJO FLOREZ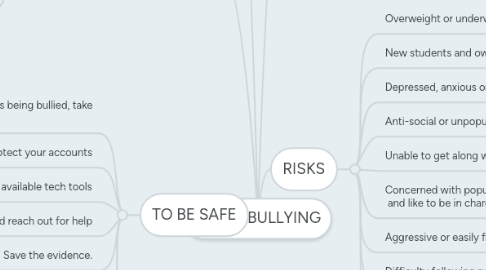 1. DEFINITION
1.1. Cyberbullying is bullying that takes place in using technology; some electronic devices like phones, computers, tablets, as well as communication like social media, chats, messages, websites. Cyberbullying is also the use of digital technologies with an intent to offend, humiliate, threaten, harass or abuse somebody.
2. RISKS
2.1. Overweight or underweight
2.2. New students and ower income families
2.3. Depressed, anxious or low self-esteem
2.4. Anti-social or unpopular
2.5. Unable to get along with others
2.6. Concerned with popularity and like to be in charge of others
2.7. Aggressive or easily frustrated
2.8. Difficulty following rules
2.9. View violence positively and have friends who also bully others
3. HOW TO ASK FOR HELP
3.1. Don't reply to any incidents of cyberbullying but do save and document the threats (harassing messages, sexually explicit pictures, or threatening texts, for example) and report them to the police. Seek appropriate legal advice. Report incidents of cyberbullying to the ISP, the cell phone company, and to any web site used in the cyberbullying. Block the cyberbully's email address or cell phone number, or change your child's email address or phone number. If you are able to identify the cyberbully, you could contact his or her parents or notify your child's school if the cyberbully is also a student there. Many schools have established protocols for handling cyberbullying but check with your child first as he or she may prefer to resolve the problem privately.
4. TO BE SAFE
4.1. If someone you know is being bullied, take action.
4.2. Protect your accounts
4.3. Use available tech tools
4.4. Tell the person to stop and reach out for help
4.5. Save the evidence.
4.6. Don't respond or retaliate
4.7. Know that it's not your fault
5. IMPACT ON VICTIMS
5.1. Withdrawal, seclusion, avoidance of social relationships
5.2. Poor academic performance
5.3. Bullying others
5.4. Frustration