OLIVER K. WOODMAN
by Francisco Nente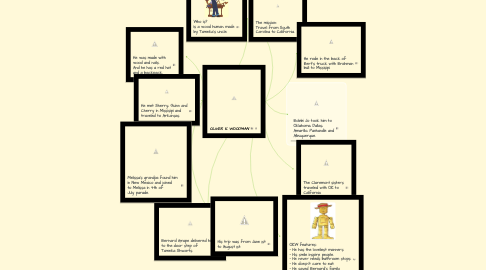 1. Who is? Is a wood human, made by Tameka's uncle.
2. The mission: Travel from South Carolina to California.
3. He rode in the back of Bert's truck with Brahman bull to Missisipi.
4. He was made with wood and nails. And he has a red hat and a backpack.
5. He met Sherry, Quinn and Cherry in Missisipi and traveled to Arkansas.
6. Bobbi Jo took him to Oklahoma, Dallas, Amarillo, Panhandle and Albuquerque.
7. The Claremont sisters traveled with OK to California.
8. Melissa's grandpa found him in New Mexico and joined to Melissa in 4th of July parade.
9. Bernard Grape delivered him to the door step of Tameka Shwarts.
10. OKW features: - He has the loveliest manners. - His smile inspire people. - He never needs bathroom stops. - He doesn't care to eat. - He saved Bernard's family from the bears.
11. His trip was from June 1st to August 1st.