CYBERBULLYING
by daniel dorado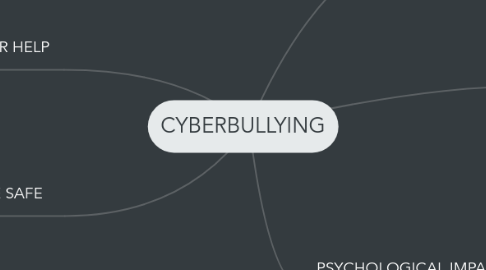 1. WHAT IS IT ?
1.1. cyberbullying is bullying that takes place using electronic technology(cell phones,computers,tablets)(social media sites,text messages chats and websites)
2. RISKS
2.1. the risks of cyberbullying is that affect everyone in different ways and sometimes this situations become dangerous
3. HOW TO ASK FOR HELP
3.1. if you are younger and suffer some form of bullying(cyberbullying) tell to your parents or your teachers
3.2. in a extreme case if you received threats not erase the evidence save them and informs the police about this.
4. STRATEGIES TO BE SAFE
4.1. Make be sure that you have a good antivirus
4.2. Do not respond to the provocations sent in public or private
4.3. Watch very well who give your data
4.4. Blocks people bother you in chat
5. PSYCHOLOGICAL IMPACT ON VICTIMS
5.1. depression
5.2. anguish
5.3. rejection
5.4. low selfsteem
5.5. isolation
5.6. instability
5.7. nervousness
5.8. insecurity
5.9. fear
5.10. loneliness