Contest Fintech (Jovoto)
by Andrea Montini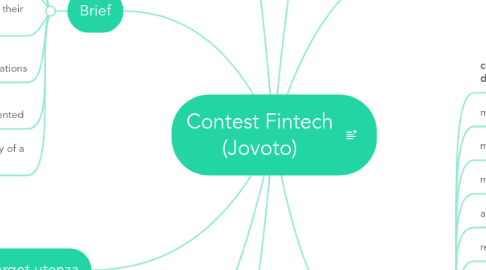 1. Link
1.1. https://uxdesign.cc/my-website-is-now-conversational-here-is-what-i-learned-7e943cc6ace0#.ni8mmftsr
1.2. https://thegrid.io/
2. Ideas
2.1. conversational UIs: they're on the rise, designers needs to be good writers
2.2. messaging UI
2.3. multiple touchpoints
2.4. mobile app
2.5. altro
2.6. rendere umano il sistema (machine learning)
2.7. sicurezza prioritaria
2.8. sistema che propone delle operazioni in base alle tue specifiche esigenze, impara dai tuoi comportamenti e agisce di conseguenza
2.9. Analisi dei dati è fondamentale
2.10. build useful tools that you interact with through a chat interface
2.11. il concetto di DIALOGO, CONVERSAZIONE, la connessione diretta tra due persone (la tecnologia è solo il mezzo) prende forma tramite un software chat open source (come slack) che può essere esteso e integrato con elementi di IA aggiuntivi (e sviluppati da chiunque). In questa forma si realizza l'esperienza innovativa privato-banca.
2.12. Il sistema IA impara ed è empatico, studia quando l'utente si trova davanti ad un problema e fornisce soluzione/aiuto
3. AI
3.1. suggerimenti delle operazioni comuni
3.2. sistema impara dalle tue azioni
3.3. comunicazione verbale (siri)
3.4. intelligenza artificiale come supporto alla gestione delle tue finanze
3.5. Cos'è? Huge amount of data and clever algorithms that analyze, evaluate and optimally link said data
4. Mondo Fintech
4.1. cos'è il fintech?
4.2. mondo evoluto bancario
4.3. come innovare una banca
5. Target utenza
5.1. persone comuni, pochi movimenti
5.2. operazioni multiple
5.3. primo accesso alla banca
5.4. solo utenti privati (non-commercial)
6. Output
6.1. mobile app
6.2. website
6.3. smartphone interactions (ios10)
6.4. slide presentation
6.5. prototype
7. Brief
7.1. Servizi bancari intelligenti
7.2. applicazioni e soluzioni digitali basate su IA
7.3. learning and evaluative systems,
7.4. Current technology generally refers to "narrow AI"
7.5. interface between private customers and their bank
7.6. interested in "narrow AI" applications
7.6.1. Develop an innovative AI-based application, which is strictly customer and/or advisor-oriented
7.7. strictly customer and/or advisor-oriented
7.8. Think about the emotional journey of a customer using financial services
8. AI from Tech Companies
8.1. IBM: Watson
8.2. Facebook: M + Bot Messanger
8.3. Google: Brain
8.4. Microsoft: Cortana