Romeo and Juliet
by
Cara Jessop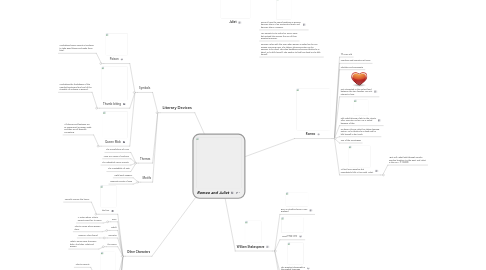 5.0
stars -
3
reviews range from
0
to
5
Juliet
Daughter of the Capulets
13 years old
Is at first naive and innocent about love, but matures as she loves Romeo.
Doesn't have the same freedoms as Romeo, because she is of an aristocratic family and because she is a woman.
Her parents try to make her marry Paris, but instead she marries the son of their greatest enemies.
Devises a plan with the Friar when Romeo is exiled so she can escape marrying Paris. She takes a sleeping potion so she appears to be dead. This plan backfires and Romeo thinks she is dead, so he kills himself. She awakes to find him dead so she kills herself.
Romeo
16 years old
Impulsive and immature at times
Idealistic and passionate
Not interested in the violent feud between the two families. His only interest is love.
Kills Tybalt during a fight in the streets after Mercutio is slain. He is exiled because of this.
He doesn't know Juliet has taken sleeping potion, so he thinks she's dead and he kills himself in her tomb.
Son of the Montagues
At first loves Rosaline but immediately falls in love with Juliet.
William Shakespeare
Born in Stratford-upon-Avon, England
Lived 1564-1616
The greatest playwright in the English language
Other Characters
the friar
Pairs
Tybalt
Mercutio
the Nurse
the Capulets
the Montagues
Prince Escalus
the Chorus
Literary Devices
Symbols
Themes
Motifs