The Book Thief
by
Emily Bastian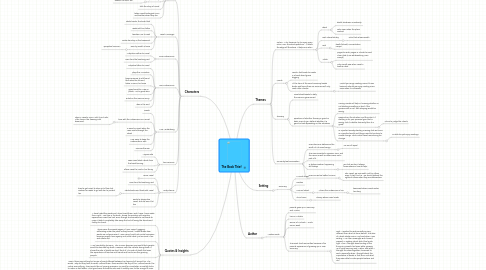 5.0
stars -
5
reviews range from
0
to
5
The Book Thief
Themes
Colors- "I do, however, try to enjoy every color I see--the whole spectrum... It takes the edge off the stress. It helps me relax."
Words
Theivery
Humanity/Dehuminization
Characters
Death
Leisel Meminger
Rosa Hubermann
Hans Hubermann
Max Vandenberg
Ilsa Hermann
Rudy Steiner
Setting
Germany
Quotes & Insights
"I have hated the words and I have loved them, and I hope I have made them right." Last line in the book. Shows the positive and negative experiences Leisel has had. Even though she was able to use words to cope, it didn't completely take away the hurt of losing the friends and family she loved.
"There were the erased pages of Mein Kampf, gagging, suffocating under the paint as they turned." Death shows how words are not permanent. Mein Kampf could not control everyone because people have agency and could rebel, just as Leisel, Max, and others did.
"I am haunted by humans." This is ironic because you would think people would be haunted by death. However, with the narrator being death it shows the side of death we don't think of. The side of death that sees the separations of families and friends and has to see the grieving people.
"Soon, there was nothing but scraps of words littered between her legs and all around her. The words. Why did they have to exist? Without them, there wouldn't be any of this. Without words, the Fuhrer was nothing. There would be no limping prisoners, no need for consolation or worldly tricks to make us feel better. What good were the words? She said it audibly now, to the orange-lit room. "What good are the words?" Showing how words can be both positive and negative. Leisel questions what good words are because of all the horrible things she has witnessed in her young life.
"Here is a small fact...You are going to die." startling at the beginning of the novel. Creates a little fear, but also curiosity to what the book will be about.
Author
Markus Zusak