Event Canvas France
by Ruud Janssen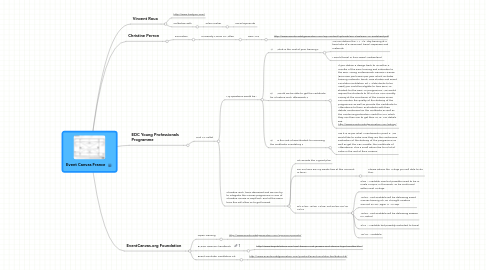 1. Christine Perron
1.1. Formation
1.1.1. University Marne La Vallee
1.1.1.1. EDC YP?
1.1.1.1.1. http://www.eventmodelgeneration.com/wp-content/uploads/2014/08/EDC-YP-Factsheet.pdf
2. EDC Young Professionals Programme
2.1. Mail 14 Juillet
2.1.1. My questions would be :
2.1.1.1. 1) What is the cost of your training ?
2.1.1.1.1. We can deliver the 1 + 1/2 day training at a fixed rate of € 3950 excl travel, expenses and materials.
2.1.1.1.2. I would travel in from Basel, Switzerland.
2.1.1.2. 2) Would we be able to get the certificate for Christine and I afterwards ?
2.1.1.2.1. If you deliver a design back to us within 6 months of the EDC training and subscribe to the EDC Young Professionals Trainer's License (Euro 500 per trainer per year which includes training materials, book, case studies and Event Simulator Facilitation Kit + Slide decks to be used) you could be eligible to train EDC YP student for the EDC YP programme. We would require the students to fill out our NPS Quality Survey at the conclusion of the course so we can monitor the quality of the delivery of the programme as well as provide the Certificate to Attendance to them as students with their details mentioned on the certificate as well as the Continuing Education credit for CIC which they can then use to get their CMP. For details see http://www.eventmodelgeneration.com/edcyp/
2.1.1.3. 3) Is the cost of €25/student for receiving the certificate mandatory ?
2.1.1.3.1. Yes it is as per what I mentioned in point 2. We would like to make sure they are the continuous evaluators of the delivery of the programme as well as get the CEU credits, the Certificate of Attendance. This a small admin fee for a lot of value in the rest of their careers.
2.1.2. Christine and I have discussed and we can try to integrate the Canvas programme in one of Christine course in Sept/Oct. and at the same time this will allow us to get trained.
2.1.2.1. Ok sounds like a good plan
2.1.2.2. For me here are my weeks free at this moment in time :
2.1.2.2.1. Please advise the 2 days you will able to do this.
2.1.2.3. w/c 5/09, 12/09, 19/09, not 26/09, 03/10, 10/10
2.1.2.3.1. 5/09 - Available now but possible need to be in Kuala Lumpur in this week. To be confirmed within next 10 days.
2.1.2.3.2. 12/09 - Not available will be delivering Event Canvas training at MPI Thought Leaders Summit in Las Vegas 11-14 Sep
2.1.2.3.3. 19/09 - Not available will be delivering session in Madrid
2.1.2.3.4. 3/10 - Available but possibly restricted to travel
2.1.2.3.5. 10/10 - Available
3. Vincent Roux
3.1. http://www.trustyou.com/
3.2. Collective with
3.2.1. Julien Carlier
3.2.1.1. Social Dynamite
4. EventCanvas.org Foundation
4.1. Open Training
4.1.1. http://www.eventmodelgeneration.com/upcoming-events/
4.2. EVENT DESIGN handbook
4.2.1. http://www.bispublishers.com/roel-frissen-ruud-janssen-and-dennis-luijer-handbo.html
4.3. Event Simulator Facilitation Kit
4.3.1. http://www.eventmodelgeneration.com/product/event-simulator-facilitation-kit/