Case Study: Allison
by Pei Lin Ang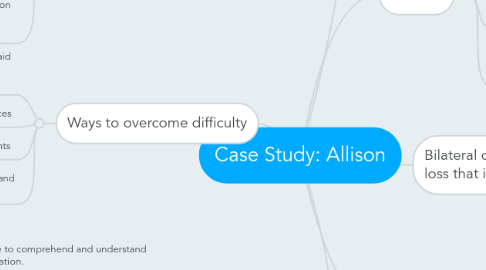 1. Bilateral conducive hearing loss that is mild to moderate
2. Cause: Repeated and severe ear infection during infancy and throughout her early childhood
3. Challenges faced
3.1. Unable to comprehend and understand information.
3.2. Speech and Language skills delayed
3.3. Discrimination from peers affecting social interaction
4. Ways to overcome difficulty
4.1. By wearing a hearing aid to amplify the sound around
4.2. By going for speech and language services
4.3. By planning IEP with her parents
4.4. To prepare the students about the situation and how they should face it.
5. Benefits and limitation of accomodation
5.1. Hearing aid is a benefit because it allow Allison to hear
5.1.1. However, it may also cause her to be discriminated by her peers because of the hearing aid
5.2. Medical intervention is beneficial because it helps to reduce the infection
5.3. IEP is beneficial because it caters to her needs
5.3.1. Limit Allison from her mainstream curriculum in school
5.4. Speech and language services benefits Allison because she will be able to improve on her language skills.
6. NOTES:
6.1. ACQUIRED (NOT CONGENITAL) BILATERAL CONDUCIVE HEARING.
6.2. WHAT KIND OF STRATEGY APPROACH WILL YOU USE. EXAMPLE: NAO/TOTAL COMMUNICATION
6.3. RECEPTIVE VOCABULARY????
6.4. CLIENT AKA CHILD SHOULD BE THE FOCUS AND HAVE THE RIGHTS TO KNOW HER CONDITION DIRECTLY NOT INDIRECTLY.