A SMART, CREATIVE, AND PROSPEROUS CITY
by Nour Mazloum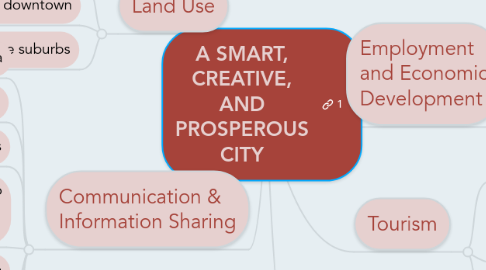 1. Land Use
1.1. Intensification of the downtown
1.2. Pedestrianize the downtown
1.3. Reurbanization of the suburbs
2. Communication & Information Sharing
2.1. Make a strong effort to gather and track data
2.2. Platforms for sharing and connecting of ideas
2.3. Make smart grid information interactive for users
2.4. Need for groups with similar interests to start collaborating, working together to make change happen faster.
2.5. Communication media planning
2.6. More information resources
2.7. More money for public libraries
3. Tourism
3.1. More festivals to encourage tourism
3.2. Encourage participants of culturally diverse groups to engage  in city-wide tourism initiatives
3.3. Be a Kingston 'brand ambassador'
4. Employment and Economic Development
4.1. Support for non-tech startups
4.2. Co-working spaces
4.3. Think forward: new ways of working and new ways of transportation - different patterns than we have now
4.4. Guaranteed basic income
5. Culture and Creativity
5.1. Art in the park
5.2. Public art
5.3. "Networking Parties"