Pedagogical concerns for classroom practice
by VANESSA PEREZ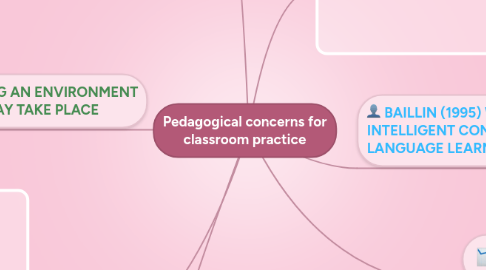 1. BAILLIN (1995) WROTE ON INTELLIGENT COMPUTER ASSSITED LANGUAGE LEARNING (ICALL)
1.1. His definition about CALL refered as a mechanical servant of the teacher.
2. ROLE OF COMPUTER
2.1. KIND OF VIRTUAL TEACHER
2.2. TAKE PLACE OF THE TEACHER FO SOME FUNCTIONS
2.3. DIFFERENTS SOFTWARE PROGRAM HAVE BEEN PROMOTED AS A VIRTUAL TEACHER AND LEARNING TOOL.
3. BRANDES AND BOSKIC ON ePortfolio
3.1. Moon links reflection to learning as she discusses surface and deep approaches to learning.
3.2. Stages of representation of learning and levels of depth of reflection.
3.3. The construction of ePortfolio provides students with a structure.
4. MAKING BETTER USE OF EXISTING MATERIALS
4.1. Learners need to reflect upon their learning.
4.2. Brandes and Boskic (2008) discuss one area where new computer metaphor and ePortfolio has provided opportunities.
4.3. Learners begin to examine learning materials and their strategies.
4.4. CALL PROGRAM or ONLINE learning teaching resource does not meet their learning needs.
4.5. User manuals are important, they are based on how to use a program.
4.6. Hutchings and Hall suggested those who prepare the course material may learn much more than those who receive it.
5. ESTABLISHING AN ENVIRONMENT WHERE CALL MAY TAKE PLACE
5.1. Th environmet of traditional schools is not usually suited to the delivery of CALL.
5.2. Individual laptop ownershi and wireless networks have made many schools completely learning environments.
5.3. Most classrooms is how to isolate or provide privacy, for an individual student.
5.4. On of desadvantage of classrooms, the cost and the difficulty of learning such programs need.
5.5. One of the chllenges to collaboration is the need to determine the working process.
5.6. It becomes more difficult for learners to learn and teachers may dismiss collaborative activities.
6. SOFTWARE OBJECTIVES
6.1. The skills of each sotware.
6.2. CALL interaction  and how can be used to make decisions.
6.3. Creating a schema or mental map according learner´s need.
6.4. Learners are involved in the process and make responsible in the learning goal.
7. VANESA ESTEFANIA PEREZ ROBAYO