Kim Piot :  My Personal Learning Network
by Kim Piot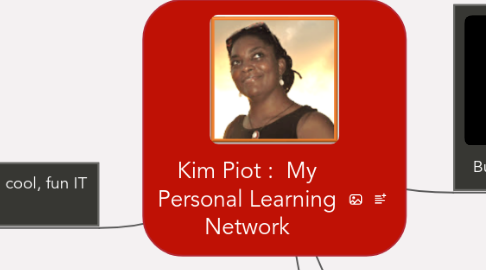 1. Retirement Goals
2. Yoga World
2.1. What is Restorative Yoga?
2.2. Onanchi Chappet
2.3. SunLotus Yoga
3. Build a Learning Commons
3.1. ISTE Librarians Network
3.1.1. Elissa Malispina - @elissamalespina
3.2. American Library Association
3.2.1. Association of School Librarians
3.2.2. Young Adult Library Services Assoctiation
3.3. Bring Maker Spaces to ICSA, whether in the library or my own classroom/IT lab
3.4. Youtube
3.4.1. Libraries in the Future
4. Retirement
4.1. Home in the United States
4.2. Home in Cote d'Iovire
4.3. Financial Resources to support both
5. Be a great Mom!
5.1. Be a great Mom!
5.2. Be a force for light and enlightenment in my life
5.3. Be alight in the darkness, so I can light the way for others
6. Space!
6.1. Star Trek
6.1.1. Star Trek Sci Fi Club
6.2. Living Maths
6.2.1. NASA
6.2.1.1. Commander Charles Bolden
7. Become a great, cool, fun IT Teacher!
7.1. Teacher Certification
7.1.1. Teach NOW! Teachers and classmates!
7.2. Future of Technology Course
7.2.1. QR
7.2.2. Virtual Reality
7.2.3. Augmented Reality
7.2.4. ISTE Conference
7.3. Robotics and Maker Spaces
7.3.1. ISTE Conference
7.4. Basic Skills Course
7.4.1. Global Virtual Classoom
7.4.1.1. Janet Barnstable
7.4.1.1.1. Hello Little World Skypers
7.4.1.1.2. Mystery Skypers
7.5. Barclie Gallogray, ICSA Technology Coordinator