What  are empolyers are looking for in a sound Technician?
by zach langston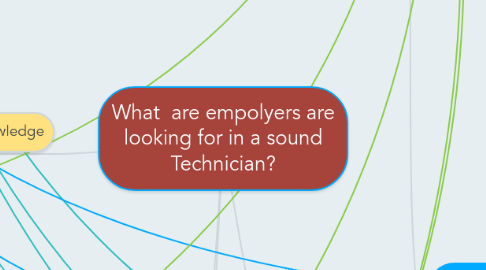 1. Personality
1.1. Outgoing
1.2. Intelligent
1.3. Motivated
1.4. Friendly
1.5. Logical
1.6. Careing
2. On the Job tasks/conditions
2.1. Convert data among multiple digital or analog formats.
2.2. Mix sound inputs
2.3. Select materials or props
2.4. Maintain logs of production activities.
2.5. Collaborate with others to determine technical details of productions.
2.6. Notify others of equipment problems
2.7. Operate audio recording equipmen
2.8. Operate control consoles for sound, lighting or video.
2.9. Having face-to-face discussions.
2.10. Working indoors in environmentally controlled conditions.
2.11. Using your hands to handle, control, or feel objects, tools, or controls
2.12. High levels of competition.
2.13. Freedom to make decisions without supervision.
2.14. Meeting strict deadlines
2.15. The importance of being accurate or exact
2.16. Working with a group or team
2.17. Exposure to sounds or noise levels that are distracting or uncomfortable
3. Education and Credentials
3.1. College certificate for entry.
3.1.1. Bachelors degree
4. Skills and Knowledge
4.1. Understanding written sentences and paragraphs in work related documents.
4.2. Monitoring/Assessing performance of yourself, other individuals, or organizations to make improvements or take corrective action
4.3. Using logic and reasoning to identify the strengths and weaknesses of alternative solutions, conclusions or approaches to problems
4.4. Talking to others to convey information effectively
4.5. Adjusting actions in relation to others' actions
4.6. Understanding the implications of new information for both current and future problem-solving and decision-making.
4.7. Communicating effectively in writing as appropriate for the needs of the audience
4.8. Identifying measures or indicators of system performance and the actions needed to improve or correct performance, relative to the goals of the system.
4.9. Giving full attention to what other people are saying, taking time to understand the points being made, asking questions as appropriate, and not interrupting at inappropriate times
4.10. Watching gauges, dials, or other indicators to make sure a machine is working properly
4.11. Knowledge of circuit boards, processors, chips, electronic equipment, and computer hardware and software, including applications and programming.
4.12. Knowledge of the theory and techniques required to compose, produce, and perform works of music, dance, visual arts, drama, and sculpture
4.13. Knowledge of principles and processes for providing customer and personal services. This includes customer needs assessment, meeting quality standards for services, and evaluation of customer satisfactionc
4.14. Knowledge of media production, communication, and dissemination techniques and methods. This includes alternative ways to inform and entertain via written, oral, and visual media
4.15. Knowledge of the practical application of engineering science and technology. This includes applying principles, techniques, procedures, and equipment to the design and production of various goods and services
4.16. Knowledge of business and management principles involved in strategic planning, resource allocation, human resources modeling, leadership technique, production methods, and coordination of people and resources
4.17. Knowledge of the structure and content of the English language including the meaning and spelling of words, rules of composition, and grammar
4.18. Knowledge of human behavior and performance; individual differences in ability, personality, and interests; learning and motivation; psychological research methods; and the assessment and treatment of behavioral and affective disorders
4.19. Knowledge of raw materials, production processes, quality control, costs, and other techniques for maximizing the effective manufacture and distribution of goods
4.20. Knowledge of transmission, broadcasting, switching, control, and operation of telecommunications systems
5. Zach's Brand
5.1. Muscian
5.1.1. Knowledge of music and music theory
5.1.2. Personal experience manipulation sound from various instruments
5.1.3. Basic grasp of the operation on various musical instruments
5.1.4. The ability to operate and maintain various musical eqipotment, amps, mic, etc.
5.1.5. Trained ear for tone and pitch
5.2. D.J
5.2.1. Three years stage and sound operating experimce
5.2.2. Keen interest in and enthusiasm for music
5.2.3. Confident and outgoing personality
5.2.4. Good sense of timing and co-ordination
5.2.5. Some understanding of technical equipment
5.2.6. Ability to ad-lib and 'think on your feet'
5.2.7. Calmness under pressure
5.2.8. Ability to work to strict deadlines
5.2.9. Ability to do several tasks at the same time
5.2.10. Skills to manage your own business and promote yourself
5.2.11. Exemplrary people skills
5.2.12. No stage fright
5.2.13. Work under pressure
5.2.14. Good connections
5.2.15. Well known in my field
5.3. Meat Cutter
5.3.1. Customer Service
5.3.2. Understanding of Supply and Demand and Ability to Meet.
5.3.3. Ability to communicate with and direct Market Associates
5.3.4. Ability to analyze situations, identify problems and implement solutions.
5.3.5. Ability to maintain a knife grip in order to cut primals and subprimals to specification.
5.3.6. Ability to reach, bend, stoop and lift up to 70 pounds, as needed to stock and pull product for processing.
5.4. Graduate From Four Sail Univeristy
5.4.1. Creative Presentation
5.4.2. Psycology of Play
5.4.3. Sequencing Technology
5.4.4. Fundamentals of Music
5.4.5. Recording Principles
5.4.6. English Composition I
5.4.7. Audio Arts in the Entertainment and Media Industries
5.4.8. Project and Portfolio
5.4.8.1. I Audio Arts
5.4.8.2. II Audio Production
5.4.8.3. III Audio Production
5.4.8.4. IV Audio Production
5.4.8.5. V Audio Production
5.4.8.6. VI Audio Production
5.4.8.7. VII Audio Production
5.4.9. College Mathematics
5.4.10. Audio Workstations
5.4.11. Sound Design for Games
5.4.12. Musical Structure and Analysis
5.4.13. Mixing Technique
5.4.14. PopularCulture in Media
5.4.15. Listening Skills for Audio Professionals
5.4.16. Contemporary Production Technuques
5.4.17. Fundamentals of Physical Science
5.4.18. Fundamentals of Music Business
5.4.19. History of Recorded Music
5.4.20. Professional Writing
5.4.21. Audio Post Production
5.4.22. Game Audio Production Techniques
5.4.23. Art History
5.4.24. Advanced Audio Editing Techniques
5.4.25. Vocal Techniques
5.4.26. Advanced Mixing Techniques