Futuro Simple
by jose luis pinto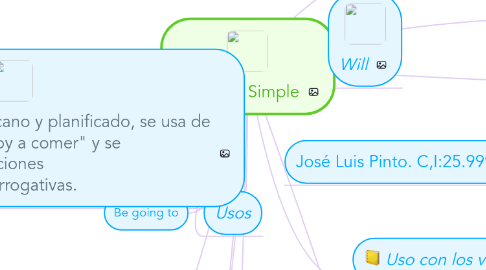 1. No se usa para cosas progarmas más que todo para para espontaneas
2. Will
3. Forma oraciones
4. Tiene varios significados
4.1. Task
4.2. Prerequisites
5. Se usa para expresar tiempo futuro.
6. No se utiliza normalmente para preguntas en primera persona. POR EJEMPLO: con los pronombres : "I"o "We"
7. Se usa mas que todo con "They,he, You, it, she " Por ejemplo:  They wiil stop smoking
8. Las formas negativas se forman con un apóstrofe "´" y se puede cambiarla "I" por una "o", POR EJEMPLO: He won´t stop smoking
9. Nomalmente se utliza en 3 situaciones.
9.1. cuando vamos a  hacer algo voluntario.
9.2. Cuando decidimos hacer algo
9.3. Cuando forzamos a alguien a hacer algo
10. Uso con los verbos del "Will"
10.1. No cambia su forma
10.2. Es seguido por el verbo principal
11. Usos
12. Be going to
13. Es un futuro cercano y planificado, se usa de manera inmediata como "voy a comer" y se pueden formular con el oraciones afirmativas, negativas e interrogativas.
14. José Luis Pinto. C,I:25.999.291