Learning Disabilities Association of Halton
by Michele Jacobs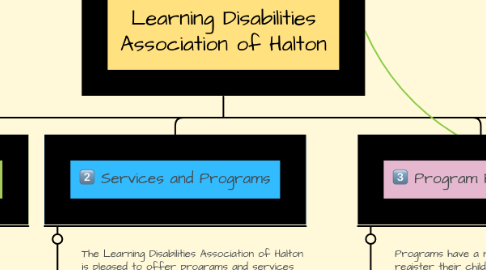 1. The vision and goals of the agency
1.1. The Learning Disabilities Association of Halton (LDAH) is a charitable organization focused on supporting, educating and delivering services to families, children, youths and adults with Learning Disabilities within Halton and positively impacting their lives.
1.2. Mission: To provide leadership in learning disabilities advocacy, research, education and services and to advance the full participation of children, youth and adults with learning disabilities in today's society. We value promoting positive change through:
1.3. • Innovation • Strategic partnerships • Credible advocacy • Informed public policy and • Quality products and services
2. Program Registration
2.1. Programs have a nominal fee and parents register their children directly (if space is available). Registration for workshops and conferences are done directly through the website or by registering through mail. Parent support is free for members, or upon the first meeting.
3. Services and Programs
3.1. The Learning Disabilities Association of Halton is pleased to offer programs and services to support our community members living with learning disabilities with or without ADHD:
3.1.1. Instructional Remediation (Orton-Gillingham based tutoring program) to address difficulties in reading, writing and math. This program adapts to the individual needs of the student and a program is developed to meet individual differences.
3.1.2. "Reading Rocks" is a reading program for struggling readers
3.1.3. Beginner Keyboarding classes
3.1.4. Assistive Technology training classes offered occasionally
3.1.5. Their services also include:
3.1.6. Lecture Series workshops for parents
3.1.7. An annual Learning Disabilities conference for educators with the goal of supporting teachers to further understand their students with Learning Disabilities and strategies that may help
3.1.8. As well as one-on-one parent support from the resource facilitator who mainly provides guidance in matters of the school and Learning Disabilities
4. Contact
4.1. Typically parents of children reach out to LDAH via phone or email, and are then connected with the resource facilitator and the board president. http://ldahalton.ca/