How to become a Chef in Europe - Let's summarize it!
by
S F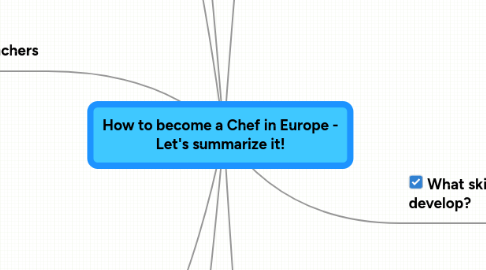 0.0
stars -
0
reviews range from
0
to
5
Participants
active till the end
temporary participants, opted out due to work load
What did students like about the project?
exchange with peers in the same professional situation in a foreign country
telling/showing others about their workplaces/schools etc. (image gallery in pupils' corner)
break from usual 'English for Chefs' routine
working with the PC
applying language naturally
comparing one's own situation with that of others
Czech students: presenting project on miniconference in Přerov
German students and Polish student: invitation to DIDACTA educational fair, presenting the project
Doing something different from the norm
What did students dislike about the project?
little time for the project work
when Twinspace was down
IT problems at school/bandwidth/no internet access
that they had to remember their login data for the Twinspace
patience needed waiting for partner students' contributions
our schedule did not always work to our benefite to coincide with our partners timetable, specially when there where web based conferences
What skills did they develop?
intercultural skills
foreign language skills
ICT skills
personal skills
professional skills
Benefits for the teachers
pan-European collaboration with enthusiastic colleagues
change from the typical way of teaching Chef students in English
exchange of teaching material in 'staff room' of Twinspace
lots of fun
"thinking outside of the box"
project motivated students more than the usual English classes
improving one's own ICT literacy
getting to know your students better
learning new things
Making other teachers aware of eTwinning in our respective schools
meeting new colleagues
opening new doors for future collaboration
Problems for the teachers
enormous work load
organising project work (PC labs etc.)
coping with different levels of ICT literacy on student side (apart from teaching matter English itself)
managing to coincide my time with the projects
Prizes won so far
National Quality Labels
Others
Our project in the press in other media (click little arrows to get to external links)
One of many projects presented in a meeting of regional schools with the aim of spreading international partnership - sponsored by Östsam & Internationella Programkontoret, Sweden