Josh - 2011 New Years Resolutions
by
Joshua Cork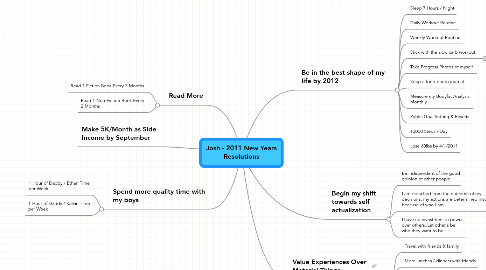 0.0
stars - reviews range from
0
to
5
Josh - 2011 New Years Resolutions
Read More
Read 1 Fiction Book Every 3 Months
Read 1 Non-Fiction Book Every 2 Months
Sleep 7 Hours / Night
Daily Workout Routine
Weekly Workout Routine
Stick with the slow carb workout
Take Progress Photos of myself
Keep a food photo journal
Measure my Bodyfat Analysis Monthly
Public Goal Setting & Results
12000 Steps / Day
Lose 60lbs by 4/1/2011
Make 5K/Month as Side Income by September
Spend more quality time with my boys
1 Hour of Daddy / Ethan Time per Week
1 Hour of Daddy / Kalvin Time per Week
I'd like to spend this year with less focus on material things and more of a focus on experience based memories & connections.
Travel with friends & family
More lunches / dinners with friends
Actively seek out opportunities to have experiences with other people.
Be independent of the good opinion of other people.
I am detached from the outcome of my decisions, my actions are determined instead because of who I am.
I have no investment in power over others. Let other's be who they want to be