IAF Emena 2016 Conference at a glance
by
Hans Terhurne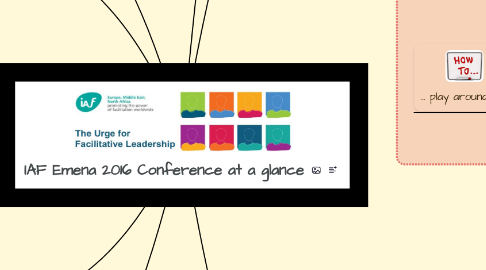 5.0
stars -
1
reviews range from
0
to
5
IAF Emena 2016 Conference at a glance
A moment of transformation Welcome to the IAF EMENA conference 2016 in the Netherlands, October 7-9. You may see this a moment of transformation for mankind. In the course of human history major shifts have happened before, they will no doubt happen again. And you may see one happening now. You may also see the part which facilitation can play in this transformation. In the hands of practitioners who bring presence, facilitation has power. Real power – the power to hold and invite a transformation which enables people, organisations and communities to thrive. You may see yourself as a bystander, an observer as we are surrounded by change and transformation. Or you feel an urge to jump in and be part of it, to find a way of participating whilst also practicing facilitative leadership. You may feel the challenges you and those around you face are just too overwhelming.  Yet it is liberating and empowering to begin - from wherever we are in the world, in our facilitation practice, in our lives.
conference trailer
open branches
close branches
link
notes
attachement
click on images to enlarge
meet keynote speakers
Mark Pixley
"This conference is about defining a collective understanding of facilitative leadership together. Use this conference to stretch your own thinking about leadership. So take this opportunity, read through, notice your reactions, talk with the people your with about where you have seen examples. So that's the invitation. Hopefully we will be able to capture some of that insight to deepen the understanding what these ideas are. What our sense of this new sense of leadership is." Mark Pixley
Daria Ofman
workshop trailers
Trends and technology timeline (by Olga Nozhnina and Julia Volikova)
We'll share how we use idea of Formula 1 competition within marketing strategy facilitation workshop and trends and technology timeline to unite teams and help them innovate.
Work community game for Changeskills (Hiltrud Kinnunen and Sami Sarén)
The game-based setting creates a safe, involving environment for teams, working groups or organizational units to discuss difficult topics related to the functioning of the work community, to agree upon common rules for the group, to develop interaction skills and to get to know other members of the group as part of the working community. Topics can include work climate, performance, team rules, leadership, conflicts, change or self-management. The topics are chosen beforehand with the customer's project group, the cases are chosen from a case library. The workshop includes different game elements which raise the energy level, awake emotions and keep participants involved and focused on the topics at hand
Helping Your Clients Make Decisions Within Complex Systems (Kathleen A. Paris)
So often the most valuable role the facilitator can play is to ask important questions. (Knowing the questions to ask is more important than knowing answers.) In this session, I would share some characteristics of complex systems (which we all deal with in organizations) and then some helpful questions to ask at each step.
Is there a single, universal principle of facilitation? Mine's ORID! (Martin Gilbraith)
At a monthly meet-up of the International Association of Facilitators in London, the question was posed "is there a single, universal principle of facilitation?" More to the point of course, if there is – what is it! It didn't take me long to think and respond that, in my own facilitation at least, there is certainly something approaching that – a simple four-level model of human behaviour that is always in my mind as I design and facilitate any learning or collaborative process, and that is very often explicitly the basis of the design
Follow the Leader - an exploration of groupthink from a personal perspective, using an original combination of facilitation methods and tools (Pascall de Groen)
The Lego Serious Play method and the Coaching Game of Points of You both enhance deep communication and commitment. In the workshop we will use a combination of these tools to explore a personal take on groupthink and the relationship with facilitative leadership. It will be a fun but insightful experience, in which we will also discuss and evaluate the used exercises on the process level. Come and play!
Facilitating visual storytelling for sustainable results (Simon Koolwijk)
A video image tells more than 1,000 words. The power of a video story is not only the image, but it also communicates the emotions, body language and the context in which the story is told. Powerful stories can make a big difference and can contribute to the acceleration of change processes. Participatory storytelling by video is a method, where a group jointly develops their story through discussion by exploring complex questions. It is not the quality of the final video that is important, but it is rather the process that helps the group to discover new ways of thinking, building relationships and communicating.
Canvases as Co-Facilitator (Anja Ebers)
Visualised metaphors, "parking lots" to capture off-topics, timelines – each of us has experienced how helpful a visualization can be in our facilitative practice: It orients participants, structures a conversation and helps to transform an exchange into a co-creation of visible outcomes. Together, facilitated by canvases and templates, we will crowdsource the graphic guides in use within our group and explore the situations where they proved to be helpful. The outcome of our workshop will add up to a growing collection of collaborative canvases and inform future ways to share this collection with the world.
Facilitation and Culture (Michael Ashworth)
I am planning a survey around "Facilitation and Culture" across several different countries. My background is working with international teams and as a British man living in France for 25 years, I am fascinated by the impact of culture on facilitation, on the one hand from the point of view of whether facilitation is a difficult "sell" in some cultures (and whether this might change) and what part culture plays in this, as well as on how facilitators adjust their way of working to accommodate the cultural dimension. We're planning a questionnaire sent to facilitators in different geographies, and a series of interviews with a smaller number of them – this is your chance to provide input.
Sessions Design Kit - Enjoyable Way of Creating Sessions (Liudmila Dudorova, Bruce Rowling and Mikhail Rossius)
Have you come upon situations when after running a facilitated session you discover that your sponsor had something different in mind? We had. Utilizing all our experience, we had designed a tool that helps to plan or present a session design in a way that guarantees engagement, Involvement, ownership and clarity. Planning your sessions had never been such fun before!
Stimulating Conversation: Peers Share Their Practice (Jeffer London)
IF the conversation is a forest, participants are heroes, and the insights are the hidden keys…are we facilitators the inn-keepers where dialogue happens? Fairies with magic potions? Or the stranger who offers wisdom? At the bottom of a well, called "conversation," there is a key. This key opens minds and stimulates conversation. This key is a question. Join us and find the key to your project: explore a technique that helps people to shape the question that will shape the conversations that will shape their shared future. Learn about the "Dialogue-Experiments" have been an integral part of our work over the years. Each experiment explored the questions of: how to get people talking? How to tackle tough topics? How to make discussions both productive and satisfying? The insights and approaches are now being poured into a book called "Stimulating Conversation," which you are invited to be part of.
The project canvas, bridging the gap between idea and execution (Pieter Daelman)
There is a chance that you already are familiar with Osterwalder's 'Business Model Canvas'. But not every idea results in the development of a new business. After an idea generation session, we often end up with a project that needs to be developed & executed within the existing organization. And that is why we have designed the 'Project Canvas'. As powerful, clear and transparent as the Business Model Canvas but specifically designed for the set up and execution of a project with your team.
participants
To be completed after the conference with a list of participants.
opening @ LEF Future Center
introducing LEF Future Center
opening & keynote
Laurens Schrijnen
'leadership & innovation'
presentation (pdf)
notes, ..., ..., ...
brochure
Brain Facilitation, impact of spheres
notes, ..., ..., ...
Facilitation Impact Award ceremony
a video
notes, ..., ..., ...
1st day @ Kontakt der Kontinenten
Opening and keynote on Facilitative Leadership
Mark Pixley
'A new sense of leadership'
presentation (pdf)
notes, ..., ..., ...
1st round of workshops
...
...
...
Keynote on Facilitative Leadership
Daria Luca
'Exploring facilitative leadership'
presentation (pdf)
notes, ..., ..., ...
2nd + 3rd round of workshops
...
...
...
2nd day @ Kontakt der Kontinenten
repeating workshops
...
...
...
Keynote on Facilitative Leadership
Sofia Bustamante
'Applying Leradership'
presnetation (pdf)
notes, ..., ..., ...
misc
design team
Jan Lelie
Koen van Leijsen
Laura den Houdijker
Hans Terhurne
Nathalie Vrancken
Martijn Timmermans
Tim Corporaal
Marc van Seters
hashtag #IAFEMENA16
sposorships