CLASSROOM MANAGEMENT
by Vanessa Rodríguez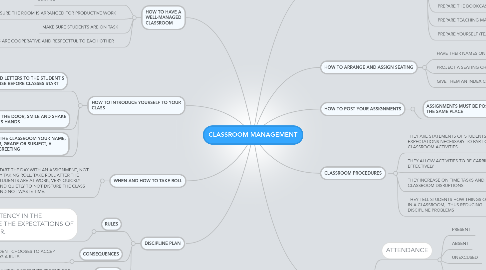 1. HOW TO HAVE A WELL-MANAGED CLASSROOM
1.1. MAKE SURE THE ROOM HAS A POSITIVE CLIMATE
1.2. MAKE SURE THE ROOM IS ARRANGED FOR PRODUCTIVE WORK
1.3. MAKE SURE STUDENTS ARE ON TASK
1.4. MAKE SURE STUDENTS ARE COOPERATIVE AND RESPECTFUL TO EACH OTHER
2. HOW TO HAVE YOUR CLASSROOM READY
2.1. PREPARE THE FLOOR SPACE
2.2. PREPARE THE WORK AREA
2.3. PREPARE THE STUDENT'S AREA
2.4. PREPARE WALL SPACE
2.5. PREPARE THE TEACHER AREA
2.6. PREPARE THE BOOKCASES
2.7. PREPARE TEACHING MATERIALS
2.8. PREPARE YOURSELF (TEACHER)
3. HOW TO INTRODUCE YOURSELF TO YOUR CLASS
3.1. SEND LETTERS TO THE STUDENT'S HOUSE BEFORE CLASSES START
3.1.1. TO PARENTS TO LET THEM KNOW ABOUT MATERIALS, EXPLAINING HOMEWORK PROCEDURES, GRADING, DISCIPLINE AD CLASSROOM PORCEDURES
3.1.2. TO STUDENTS TO WELCOME THEM, TELL STUDENTS WHO YOU ARE, TELL THEM YOUR EXPECTATIONS FOR THEM
3.2. STAND AT THE DOOR, SMILE AND SHAKE STUDENT'S HANDS
3.3. POST NEXT TO THE CLASSROOM YOUR NAME, ROOM NUMBER, GRADE OR SUBJECT, A WELCOME OR GREETING
4. HOW TO ARRANGE AND ASSIGN SEATING
4.1. HAVE THEIR NAMES ON PLACED  CARDS ON THE DESKS
4.2. PROJECT A SEATING CHART WITH THEIR NAMES WRITTEN ON IT
4.3. GIVE THEM AN INDEX CARD AND HAVE THEM FIND THEIR SEAT
5. HOW TO POST YOUR ASSIGNMENTS
5.1. ASSIGNMENTS MUST BE POSTED EVERYDAY IN THE SAME PLACE
5.1.1. ASSIGNMENTS TEACH STUDENTS RESPONSIBILITY. THEY KNOW WHAT TO EXPECT DURING THE DAY.
6. WHEN AND HOW TO TAKE ROLL
6.1. START THE DAY WITH AN ASSIGNMENT, NOT BY TAKING ROLL. TAKE ROLL AFTER THE STUDENTS ARE AT WORK, VERY QUICKLY AND QUIETLY TO NOT DISTURB THE CLASS AND NOT WASTE TIME.
7. DISCIPLINE PLAN
7.1. RULES
7.1.1. THEY PROVIDE CONSISTENCY IN THE CLASSROOM. THEY ARE THE EXPECTATIONS OF APPROPRIATE BEHAVIOR.
7.1.1.1. GENERAL RULES
7.1.1.2. SPECIFIC RULES
7.2. CONSEQUENCES
7.2.1. WHAT THE STUDENT CHOOSES TO ACCEPT WHEN BREAKING A RULE.
7.3. REWARDS
7.3.1. WHAT THE STUDENTS RECEIVE FOR APPROPRIATE BEHAVIOR.
8. CLASSROOM PROCEDURES
8.1. THEY ARE STATEMENTS OF STUDENTS EXPECTATIONS NECESSARY TO PARTICIPATE IN CLASSROOM ACTIVITIES
8.2. THEY ALLOW ACTIVITIES TO BE CARRIED OUT EFFECTIVELY
8.3. THEY INCREASE ON TIME TASKS AND REDUCE CLASSROOM DISRUPTIONS
8.4. THEY TELL STUDENTS HOW THINGS OPERATE IN A CLASSROOM,  THUS REDUCING DISCIPLINE PROBLEMS
9. BASIC RECORDS
9.1. ATTENDANCE
9.1.1. PRESENT
9.1.2. ABSENT
9.1.3. UNEXCUSED
9.1.4. TARDY
9.2. SCORES
9.2.1. TESTS
9.2.2. PROJECTS
9.2.3. HOMEWORKS
9.3. RUNNING TOTAL
9.3.1. UP TO DATE OVERVIEW OF THE STUDENTS PROGRESS