Creative Presentation Plan
by Brooke Anton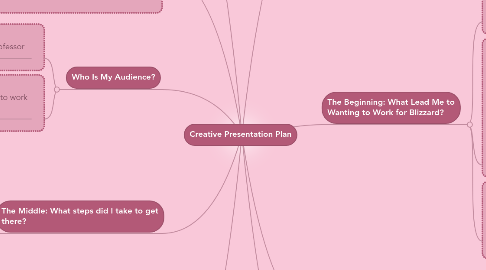 1. Then after graduating I attended Full Sail University.
1.1. There I worked on getting my Game Art Degree
1.2. This degree taught me how to work in a professional field.
1.3. It also taught me how to animate, create game characters, how to create amazing shading and lighting, and the fundamentals of art.
2. After graduating Full Sail I moved to Irvine California and went to the University of California Irvine.
2.1. I first got a Bachelor's degree in Computer Science with a minor in Digital Arts.
2.1.1. This degree teaches programming while also having you work with your classmates to create a video game.
2.2. I then gained my Master's in Fine Arts from this college also.
3. How am I going to make it?
3.1. Prezi
3.2. Youtube Video in Draw My Life Style
3.2.1. Record on iPhone
3.2.1.1. Use Filmora to edit the video
3.3. Use Audacity for vocals and editing voice over
4. The Beginning: What Lead Me to Wanting to Work for Blizzard?
4.1. I have always wanted to do art, and have always had a passion for it. My mom went to school to be an art teacher, which lead to my passion in the first place.
4.2. Then at 17 I was introduced to an amazing game called Diablo 3. The art was amazing to me. It inspired me, it made me pick up my pencil and draw something. This game was made by Blizzard. After I played through this game and saw how this game touched me I decided I also wanted to make games to inspired people I wanted to make games for Blizzard Entertainment I wanted to inspired kids like they inspired me.
4.3. I did struggle once I got older trying to find how I would make art apart of my life once I graduated high school.
4.3.1. That is until I gott the best art teacher around. He taught me about all the different careers in art. How art IS important, and is all around me. He really flamed my passion for art.
5. Who Is My Audience?
5.1. Technically it's my classmates and professor
5.2. I am creating it as if a company I want to work for is seeing it
5.2.1. Which is Blizzard Entertainment for Gaming
6. The Middle: What steps did I take to get there?
6.1. Before even graduating high school I did research on how to make games and what schools to go to. I also started to really dedicated myself to my art.
6.2. I then went
6.3. I then went to Digipen University when moving with my fiancé to Washington. Here I studied Game Design.
6.3.1. Here I learned how to write scripts for games. I learned management skills, got to take art classes and animation courses also. I learned how to design characters also.
7. The End: Why They Should Hire Me?
7.1. I have been playing Blizzard games for years. I know their company and have a passion for their games.
7.2. At this point after all my years of school, I have worked on games with other people who will be working in the gaming industry. I understand the importance of team work and collaboration.
7.3. I'm also versatile. I have learned how to animate, create game characters, and program the video games I wanna make.
8. Why Am I Doing This Presentation?
8.1. I am doing this presentation to basically sell myself to the company i want to work for. I am showing them that I am up for the job that I want to work at their company.
9. What obstacles might I come across?
9.1. I might come across keeping the audience's attention because the presentation is primarily about me and why they should hire me, so it might get annoying or bland to keep attention.
9.1.1. It  will also be hard to amaze because a company like Blizzard has heard a lot of this before from many people trying to get hired for them so I have to do my most not to sound like a broken record to them.