A SOCIAL AND CULTURAL PERSPECTIVE
by Atziri Vanessa Martínez Álvarez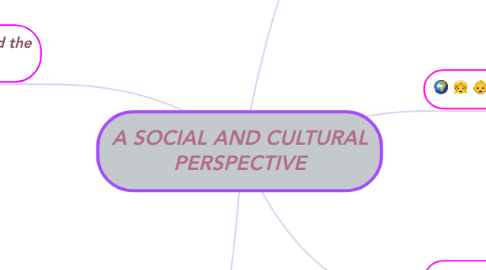 1. 'Developmentally appropriate practices' in context
1.1. has been a catalyst for very significant debates around
1.1.1. underpinning frameworks for
1.1.1.1. early childhood policy
1.1.1.2. practice
1.2. Three key themes can be singled out that have particular salience for ECCE policy
1.2.1. diversities in early childhood
1.2.2. development is a social and cultural process
1.2.3. early childhood is socially constructed.
1.3. One way to counter the idealised, universal developmental assumptions implicit within DAP is by proposing the alternative acronym CAP, 'Contextually Appropriate Practice
2. Diversities in early childhood
2.1. the striking variations in how childhood is understood and experienced, and how it is applied to individual and groups of children
2.1.1. in relation to their age
2.1.2. gender
2.1.3. maturity
2.1.4. social status
3. A social and cultural process
3.1. is not just about acknowledging diverse and changing cultural traditions, important though this is.
3.1.1. It isn't just about acknowledging that 'Development and learning occur in and are influenced by multiple social and cultural contexts' (as in the NAEYC updated statement of DAP referred to above)
3.2. Recognising development as a socio-cultural process has important implications for
3.2.1. policy
3.2.2. curriculum
3.2.3. pedagogy
4. Constructions and reconstructions of early childhood
4.1. This is not to deny the significance of universal maturational processes, nor to deny the particular vulnerability of young children to adversity
4.2. Early childhood settings, pedagogies and practices are shaped by generations of human activity and creativity, shaped by circumstances, opportunities and constraints and informed by multiple discourses about children's needs and nature.
5. Quality, critical perspectives and the politics of early childhood
5.1. Debates around what counts as 'quality' in ECCE have been an
5.1.1. especially influential catalyst since the 1990s
5.2. Acceptance of the view that children's
5.2.1. behaviour
5.2.2. thinking
5.2.3. social relationships
5.2.4. adaptation