Indie Musician's Toolkit
by
Helen Baxter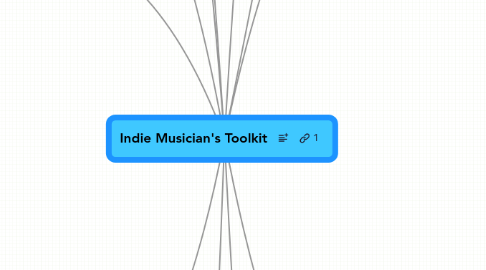 5.0
stars -
4
reviews range from
0
to
5
Created by Helen Baxter at Mohawk Media for a series of workshops at Colab, Auckland University of Technology.
Helen Baxter
Mindmap address
http://www.mindmeister.com/75888780
Password: mohawkmedia
Tours
Try asking fans where to tour
CrowdFunding
Crowdfunding tools
Not new idea
Distribution
Heartening factoids: On Bandcamp, albums outsell tracks 4 to 1 (in the rest of the music buying world, tracks outsell albums 16 to 1). On name-your-price albums, fans pay an average of 50% more than whatever you set as your minimum. We've driven 624,910 paid transactions and served 10,046,430 downloads to happy fans.
Merchandise
Traditionally artists made money through touring and merchandise
Calendars/Photobooks
Sell Tshirts etc.
Marketing
The only thing artists have to fear is obscurity not piracy.
Think of services labels offer then go indie
Website or social media?
Work your social networks
Get Social
Tagging Strategy
Streaming Gigs
Behind the scenes blogs
Mobile Media
Encourage remixes & mashups
Management
Communication
Docs & files
Projects/People
Financial
Inspiration
Bob Baker
Andrew Dubber
Tshirts & Suits
Bootstrappers Bible
Intro
Music 'Deals'
Reality
Indie approach
TMet Recordings
Production
Creative Commons is a non-profit making organisation founded in 2001, to provide an alternative copyright system for artists in the digital millennium. On the Wikipedia entry on Creative Commons their focus is stated as 'Expansion of "reasonable", flexible copyright'. The Creative Commons Information Flyer (pdf) explains that CC Licenses are not an alternative to copyright. 'They apply on top of copyright, so you can modify your copyright terms to best suit your needs'. The end result is clearly defined terms of how a work is to be used, and a growing pool of legally remixable and mashable content.
Jams
All starts with good audio