Indie Musician's Toolkit
by
Helen Baxter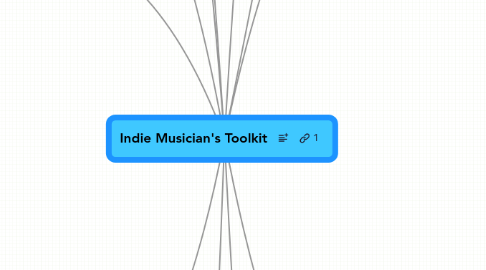 5.0
stars -
4
reviews range from
0
to
5
Created by Helen Baxter at Mohawk Media for a series of workshops at Colab, Auckland University of Technology.
Helen Baxter
Mindmap address
http://www.mindmeister.com/75888780
Password: mohawkmedia
Tours
Try asking fans where to tour
How big a venue?, Living room gigs, Pub, Rock club
Amanda Palmer
Eventful
Update all your spaces
NZ Ticketing system
The future?
CrowdFunding
Crowdfunding tools
List projects
Choose $$ goal
The Science of Crowdfunding
Not new idea
Marillion, brings music fans closer to the bands they love, $60,000 fan funded tour, Fan funded album, 2000, First album 12,000 pre-orders, Second album 18,000 pre-orders
'Where fans can invest in music'
Fleur Jack, Can use Kiwi FM as promo channel
Raised 9,000 Euros / $15,000 to record an album, 133 'Believers'
The Twitch
To collect sales & donations
Can use donation button
Pay to bank or credit card
NZ Donations
Add embedded widget
Distribution
Social Media friendly
Embeddable player
Host media files
Demos & fanbase
Heartening factoids: On Bandcamp, albums outsell tracks 4 to 1 (in the rest of the music buying world, tracks outsell albums 16 to 1). On name-your-price albums, fans pay an average of 50% more than whatever you set as your minimum. We've driven 624,910 paid transactions and served 10,046,430 downloads to happy fans.
Sell music & merchandise direct to fans, Speed of sound, $20 - 3 purchases, Fans paid $5 to 10, Knew goes direct to support us
Albums
Mass Distribution
Multiple download stores & streaming
Take 9%of revenue - you get 91%
More artist services, UPC barcodes
Merchandise
Traditionally artists made money through touring and merchandise
Calendars/Photobooks
Self Publishing
Sell Tshirts etc.
Zazzle.com, Embed online store into your site
Mobile readable messages
Marketing
The only thing artists have to fear is obscurity not piracy.
Think of services labels offer then go indie
Website or social media?
Must update regularly
Microblogs easier than blogs to write
Work your social networks
33 Million People in the Room
Only set it up if you plan to keep it up to date
Get Social
MySpace?, My Space is dead, long live Facebook
Facebook, Groups v Pages, Band pages
Twitter, Two way info flow, Follow your heroes, track #hashtags, Encourage RTs, Ten ways to share music on twitter, Pay with a tweet
You Tube, Use tags, Most hits come from related videos, Short form clips
Hootsuite, Cross posting, Post to multiple twitter, Facebook & linked in accounts, Track hashtags
Music Hype, Fans listen, love, tweet & share music while being rewarded
Tagging Strategy
Tags increase visability to search engines
Use your name, location, genre etc.
What 5 key tags will you use?
Streaming Gigs
Living room gigs
Bedroom webcasts
Ustream.tv
Behind the scenes blogs
Posterous
Tumblr
Mobile Media
Publishing, Pixelpipe
Streaming, Qik.com
Encourage remixes & mashups
Remix = Reworking audio, images or both
Mashup = Mixing two or more clips together
Publish some digital assets, Make it easy for fans, Run comps
Management
Hootsuite, Cross posting, Post to multiple twitter, Facebook & linked in accounts, Track hashtags
Communication
GMail / Chat
Docs & files
GDocs
Zoho
Projects/People
Team Work PM, Albums, Tours
Financial
Pocketsmith
Xero.com
Heaps, KiwiBank
Inspiration
Bob Baker
Music Marketing Tips
Andrew Dubber
New Music Strategies - free ebook
Tshirts & Suits
Free ebook
Bootstrappers Bible
Free ebook
Intro
27% more units of music sold in 2010 than 2006, album sales overall were down by 7%, digital album sales were up 30.6%
More than ever before
Despite Piracy
Music 'Deals'
A&R, Artist & Repertoire, Now discovered on You Tube
P&D, Production, Now in bedrooms, Distribution, Digital options cheaper/easier
Marketing, Social Media, You Tube
Reality
Labels only sign acts with existing fan base
Artic Monkeys
Justin Bieber
360 Deals
Indie approach
Manage your own career
Own your own copyrights
Are you a composer or a performer?, Touring, Releasing
Ken Kelly - Wired, 1,00 True Fans, brings music fans closer to the bands they love
Sell it ..., Keep largest %, Multiple formats, Multiple Income Streams
TMet Recordings
The Evil Plans of George Bush III, Made September 2001, Released September 2001, Kiwi FM - Top Ten, How to release?, Vinyl too expensive, CD's needed stockists
I Like the Blue Ones, CDs in Real Groovy, NZ, CD Baby - CD Distribution service, Signed with Itunes 2003
Online store launched Dec 2003, Digital downloads, NZ dance music
Radio Shows, UP Fm, Twisted Radio, Kiwi FM
Made more from Cd Baby than own store
Closed Online store in 2005
Label deal with Tidy Digital, UK, Got a track to the top of the Tidy Charts
Royalties, Arrive every 6 months for past 9 years, Small amounts, last royalty cheque $100, Singer with a deal said - "you must have sold loads", No - we just keep 91% of income, No Marketing since 2002, The long tail, eventually living income, multiple income streams, sell lots of small items over time, Go where the eyeballs are, High Street v Bazaar
Production
Creative Commons is a non-profit making organisation founded in 2001, to provide an alternative copyright system for artists in the digital millennium. On the Wikipedia entry on Creative Commons their focus is stated as 'Expansion of "reasonable", flexible copyright'. The Creative Commons Information Flyer (pdf) explains that CC Licenses are not an alternative to copyright. 'They apply on top of copyright, so you can modify your copyright terms to best suit your needs'. The end result is clearly defined terms of how a work is to be used, and a growing pool of legally remixable and mashable content.
CC is updating copyright for digital age
Updating copyright for digital age
Sits on top of copyright
Some rights reserved
Expresses how you want people to use your work
CC Databases, Search CC, Free Music Archive, Jamendo
Jams
UJam
Jam Studio
Hollywood Sound effects and loops
brings music fans closer to the bands they love
All starts with good audio
DIY Vocal Booth