STEM
by janelisher dipon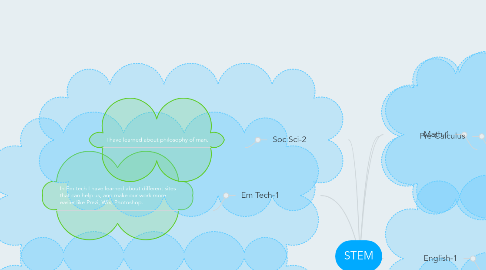 1. English-1
1.1. I have learned about oral communication in context. I have learned how to communicate with others.
2. Filipino-1
2.1. Natutunan ko di to ang wika, ang paggamit nito at kung ano ang mga proseso kung paano naging Filipino ang naging pambansang wika ng Pilipinas.
3. Math-1
3.1. In mathematics I have learned about linear and quadratic functions logarithms. ialso learn how to solve it.
4. Science-3
4.1. I have learn about rocks,solar system, and new renewable resources that can help our society.
5. P.E.-1
5.1. I have learned about Health Optimizing Physical Education I have learned about what activities that can help you fit and makes you healthy.
6. Em Tech-1
6.1. In Em tech I have learned about different sites that can help us, and make our work more easier like Prezi, Wix, Photoshop.
7. Pre-Calculus
7.1. I have leaned about  sigma notation, Quadratic Equations,elimination process and how to solve it.
8. Soc Sci-2
8.1. I have learned about philosophy of man.