STEM
by Ken Aribal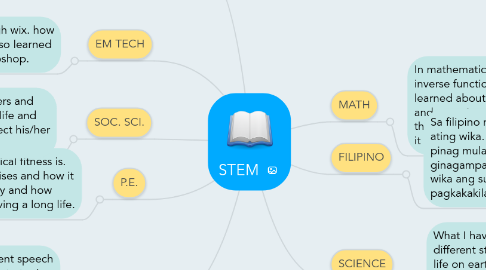 1. MATH
1.1. In mathematics i learned about functions like inverse functions and rational functions. i also learned about simple interest, ordinary interest and exact interest.And I was able to learn about the importance of mathematics and how greatly it can help us
2. FILIPINO
2.1. Sa filipino natutunan ko ang kahalagahan ng ating wika. kung saan nangaling at ano ang pinag mulan nito. nalaman ko rin ang ginagampanang papel nito sa lipunan dahil ang wika ang sumisimbolo sa atin at ang ating pagkakakilanlan.
3. SCIENCE
3.1. What I have learned in science so far are the different structure of earth's atmosphere. How life on earth really started and the different rock types. i also learned about how important life is and we should take care of it.
4. P.E.
4.1. Because of PE I knew what physical fitness is. Aerobic and an anaerobic exercises and how it helps our body regulate properly and how exercise can really help us in having a long life.
5. ENGLISH
5.1. In English I learned about the different speech styles. the Different communication strategies. the different models of communication and how can improper use of language lead to misunderstanding or communication breakdown.
6. SOC. SCI.
6.1. I leaned about the different philosophers and their works. i also learned the value of life and how a persons decision can greatly affect his/her life in the future.
7. EM TECH
7.1. I learned how to make a page through wix. how to use Microsoft excel and word . i also learned to edit pictures through adobe Photoshop.
8. CALCULUS
8.1. What i have learned in calculus is the equations of a circle like its gen. equation and its standard form. i also learned about parabola, hyperbola and ellipse.