SIMILARITIES & DIFFERENCES.
by amaranta leon ruiz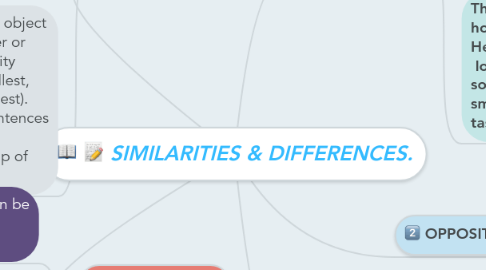 1. ADJECTIVES.
1.1. Adjectives describe nouns.
1.2. They give information about something or someone that we can discover with our senses.
1.3. They tell how He/She/It  looks, feels sounds, smells or tastes.
1.3.1. example
1.3.1.1. Roses are RED
1.3.1.2. The BLUE ball
1.3.1.3. a SPANISH woman
2. OPPOSITIES.
2.1. nouns
2.1.1. a person or thing that is opposite or contrary
2.1.1.1. example
2.1.1.1.1. She is LOW -She is  HIGH
2.1.1.1.2. He is GOOD - He is BAD
2.2. adjective
2.2.1. situated, placed, or lying face to face with something else or each other
3. DESCRIPTION.
3.1. A detailed account of the certain or salient aspects, characteristics, or features of a subject matter or something seen, heard, or otherwise experienced or known.
3.1.1. example
3.1.1.1. Alonso is tall and slim. He is young. He has short straight blonde hair. Hes has bright blue eyes . He has short nose . He is handsome.
4. COMPARATIVES.
4.1. Comparative is the name for the grammar used when comparing two things. The two basic ways to compare are using as .. as or than.
4.1.1. example
4.1.1.1. This computer is BETTER than that one
4.1.1.2. Our car is BIGGER than your car.
4.2. When comparing with as .. as, the adjective does not change. When comparing with than, however, some changes are necessary, depending on the number of syllables the adjective has:
4.2.1. example
4.2.1.1. It's COLDER today than it was yesterday .
4.3. used to describe an object which is at the upper or lower limit of a quality (the tallest, the smallest, the fastest, the highest). They are used in sentences where a subject is compared to a group of objects.
4.3.1. example
5. SUPERLATIVES.
5.1. The group that is being compared with can be omitted if it is clear from the context (final example below).
5.1.1. example
5.1.1.1. My house is the LARGEST one in our neighborhood.
5.1.1.2. Your dog ran the FASTEST of any dog in the race.
5.2. THREE OR MORE SYLLABLES
5.2.1. Adjectives with three or more syllables form the comparative by putting more in front of the adjective, and the superlative by putting most in front.
5.2.1.1. example
5.2.1.1.1. important - MOST IMPORTANT
5.2.1.1.2. expensive -  MOST EXPENSIVE