Conceptual Framework
by Kayla Hall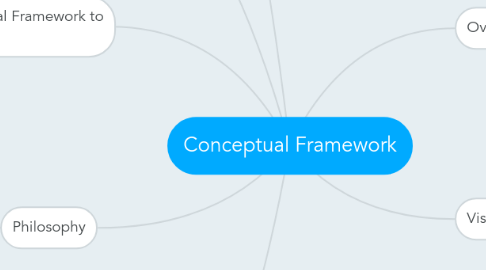 1. Overview
1.1. Guides curriculum and instructional decisions
1.2. Knowledge becomes fluid
1.3. "Reflective Constructors of Quality Learning Experiences"
1.3.1. Conceptual
1.3.1.1. Strategic
1.3.1.1.1. Evaluative
2. Vision and Mission
2.1. Higher education as an avenue to quality living
2.2. Instill Christian values
2.3. Foster search for truth and responsibility toward humanity
2.4. Academic excellence
2.5. Strong work ethic, especially when impacting student learning
3. Philosophy
3.1. Teacher's have a responsibility to ensure welfare and enrichment of society
3.2. Create qualified, knowledgeable, and caring professionals who understand all students can learn
3.3. Collaboration that brings enhancement and quality changes
3.4. Demonstrate dispositions according to standards
4. Knowledge Bases
4.1. Reflective
4.1.1. Personal Growth
4.1.2. Seeks knowlege
4.2. Constructivism
4.2.1. "Knowledge is the tentative and relative  result of the learner's own mental actions."
4.2.2. Teachers are facilitators and not just knowledge-givers
4.2.3. "Learners construct their own understanding rather than having it delivered or transmitted to them."
4.3. Quality Learning Experience
4.3.1. Global awareness of diverse student populations through field experience
4.3.2. Community of learners and educators
4.4. Critical Thinking
4.4.1. From thinking to implementation
4.4.2. Nurturing the desire to use skills
5. Alignment of Conceptual Framework to Standards
5.1. Diversity
5.1.1. Candidates are exposed to a variety of experiences
5.1.1.1. Candidates become concerned for social justice
5.2. Technology
5.2.1. Powerful avenue to academic success
5.3. Online Delivery
5.3.1. Better life of online resources and technology
5.3.1.1. Enhanced writing and computer skills
5.3.1.1.1. Removed bias
6. Alignment to Continuous Assessment Model
6.1. Initial Programs
6.1.1. Pillar I
6.1.1.1. Introductory Courses and Experiences
6.1.2. Pillar II
6.1.2.1. Continue to develop teaching strategies
6.1.3. Pillar III
6.1.3.1. Student Teaching
6.2. Advanced Programs
6.2.1. Pillar IV
6.2.1.1. Admission in Master's Program
6.2.2. Pillar V
6.2.2.1. Continued education of key concepts, etc.
6.2.3. Pillar VI
6.2.3.1. Exit with reflection
7. Transition/Key Assessment
7.1. Recommendations/Dispositions
7.2. Field/Clinical Evaluations
7.3. ePortfolio
7.4. Exams
7.5. GPA
7.6. Code of Ethics
7.7. Clinicals