Tangled Threads A Hmong Girl's Story by Pegi Dietz Shea
by
Nicole Weiman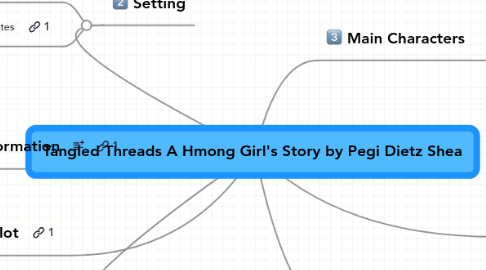 0.0
stars -
0
reviews range from
0
to
5
Tangled Threads A Hmong Girl's Story by Pegi Dietz Shea
Setting
Refugee Camps: 1. Ban Vinai - North 2. Phanat Nikhom - South
Main Characters
Mai
Pronounced "My"
Grandma
Uncle Ger
Pronouned "Jer"
Aunt Pa Ku
Pronounced "Pah Koo"
Pa Cua
Pronounced "Paw Chew Ah" AKA Lisa
See
Pronounced "See" AKA Heather
Problem
Hundreds of thousands of Hmong (pronounced "Mung") have fled persecution from China in the eighteenth and nineteenth century.  They relocated to Vietnam, Laos, Thailand, and Burma (now Myanmar).  Many Hmong fought for the French against the Japanese during World War II (WWII).  The American Government also secretly employed thousands of Hmong spies.  Some refugee camps in Thailand continued for over two decades!  Those Hmong soldiers secretly employed by the United States military were allowed to immigrate with their families to the United States.  This is how many Hmong have come to live in such centralized locations such as: St. Paul and Minneapolis, MN; Fresno, CA; Detroit MI; Milwaukee WI; Greensboro NC; and Providence RI.  Help is still needed for the Thailand Refugees.  Please use the link to find out more!
Resolution